There are things you learn early in life as a young woman.
1) Change out of wet clothes immediately.
2) A Little Black Dress (LBD) is a necessary staple in your wardrobe.
It's true. Open up the closet of any woman with fashion sense and style and I guarantee you will find at least one LBD in there. If you're like me and your weight has yo-yo'ed causing you to gain and lose a few LBs over the years, then you may find a few more LBDs in a variety of sizes and styles.
The LBD in every woman's wardrobe inspired a new musical, Little Black Dress, which opens next Friday, April 27 and Saturday, April 28 at the Jaeb Theater at the Straz Center.
From the ladies of Spank! The Fifty Shades Parody comes a new a hilarious ladies-night- out musical that follows BFFs Dee and Mandy as they don their LBDs. We witness the girls' major life events in their little black dresses – first job interview, first date, first awkward sexual experience – which happens more than once – first funeral, and more!  With improv, audience participation, fun music and a triple warning – strong language, fog and haze, and one very sexy man – Little Black Dress is a perfect fit for any woman.
Through a Tampa Bay Bloggers partnership with the Straz Center, I had the opportunity to interview one of the show's creators, Danielle Trzcinski.
Just about every woman owns a Little Black Dress. Why do you think this is? What do women love so much about their Little Black Dress?
Women love their LBDs because the Little Black Dress works for almost any event you are attending! You can dress it up with heels and some nice jewelry or dress it down with a pair of flats. You will never be underdressed in a LBD, as it exudes style and sophistication!
Did you wear multiple black dresses to find your inspiration for the book? Did you and your team brainstorm in black dresses? 
Haha! We never brainstormed wearing our little black dress in the writers' room, but every workshop we did, we wore our LBDs. It's so funny the difference of running choreography in regular clothes versus when we ran it with a little black dress and heels. The minute we slipped them on, we'd instantly feel sexy and fierce. Basically, we felt like we were Beyonce.
How long did it take to write Little Black Dress? Can you tell us a bit about the process?
Amanda Barker and I met while we were performing on tour with Spank! The Fifty Shades of Grey Parody. When I booked the show, I thought, "This is going to be three weeks in small theaters."  It was three years, in 1,000-2,000 seat houses. Amanda and I are both writers and we were like, "We can write a show for this same audience – woman who like to party and go to the theatre – but let's write something where the lead characters are smart, hilarious, strong women!"  I write musicals, so I got my friend and composer Natalie Tenenbaum to help write the songs, and Amanda got her friend Chris Bond involved to help with the story. For over two years we workshopped the show in NYC and Canada until we finally ironed out and sculpted the final version of it, which now has not only hilarious dialogue and fantastic songs, but also a lot of heart. Honestly, every one of us brought so much passion, insight, talent, hilarity and heart to the script, story and songs that I feel so proud of what we all created, together.
Tell us about Dee and Mandy's friendship. What makes it a relatable BFF story?
I love the story of Mandy and Dee because it's honestly a friendship that every woman can relate to. We meet Mandy and Dee when they are 13 and are buying a dress for their first big school dance. Spoiler – it's an LBD! Together, they go through life in their LBDs, but no matter what they face, they can get through it because they have each other. As they get older, the lifestyles they choose start to differ – which happens to everyone. Dee decides to go for a more "traditional" path in life – husband, kids, a steady job – while Mandy is single, free spirited and unattached. One path is not better than the other, just different, and you can see how their contrasting lifestyles cause a bit of strain on their relationship because they are in separate places. Ultimately, they learn that even though they have different lifestyles, life is so much better with their best friend by their side. We have a song in the show that perfectly displays what they are to one another called, "You're the Tequila to my Lime."
When Little Black Dress opens next week in Tampa, what can the audience look forward to?
We wrote this show for women to have a REALLY fun night! A night where they can leave the kids at home, dress up, put on their own LBD, grab drinks and laugh their face off – and see a sexy man stripping 'cause… why not?!  Also, what makes this show so special is that it's a full musical with improv in it! Each performance, we take audience suggestions and use them in the show – which ends up being super hilarious and entertaining as it makes every show different! If you're looking for a fun date night, girls' night, birthday party, bachelorette party or just a good time out at the theatre, Little Black Dress is it!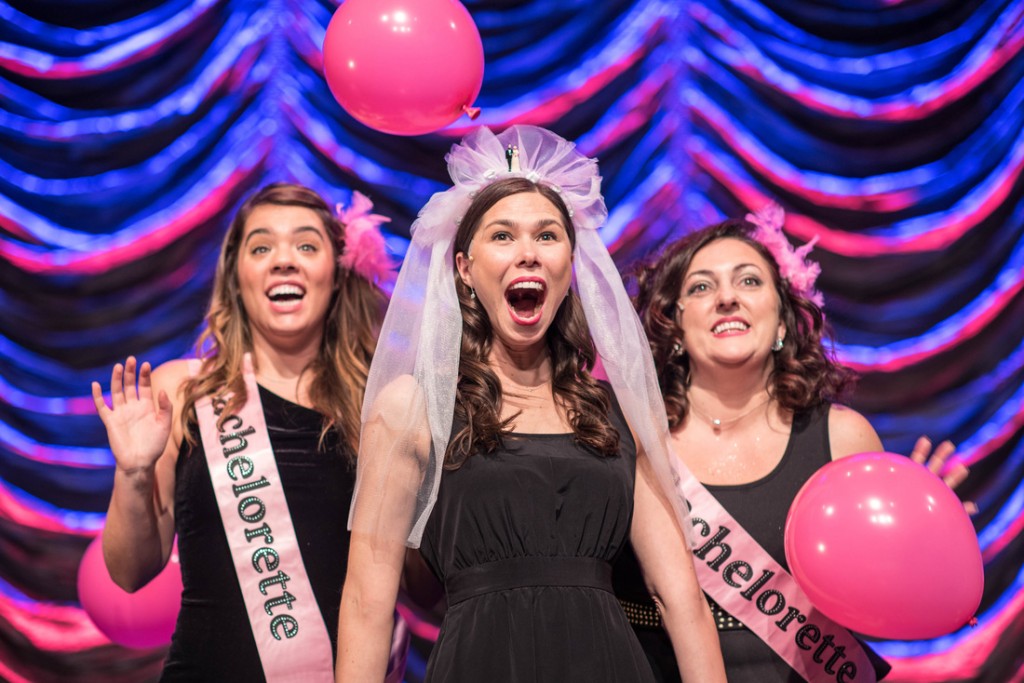 So, don your LBD, grab your girlfriends and bring your tribe to the Straz Center next weekend!
Little Black Dress is playing for TWO DAYS only, Friday, April 27 and Saturday, April 28. Visit www.strazcenter.org for showtimes and tickets.