A few years back, we started a new tradition of traveling to the Blue Ridge Mountains for Thanksgiving and the weeklong trip became an event my family looked forward to every year.
Then, last year my father suffered a stroke and became immobile. We weren't sure if he would walk again and while on his road to rehabilitation, climbing steep cabin steps in the mountain seemed unlikely.
With much disappointment, we cancelled our mountain Thanksgiving retreat but looked forward to hosting Thanksgiving dinner at home for our large extended family.
The cost of feeding 17 people (mostly adults) can be a steep price tag during the holidays. Then, add in table linens and some tablescaping and one meal can really break the holiday budget.
So, I put my craft, thrifty ways to the test and created an affordable festive fall look to entertain a crowd.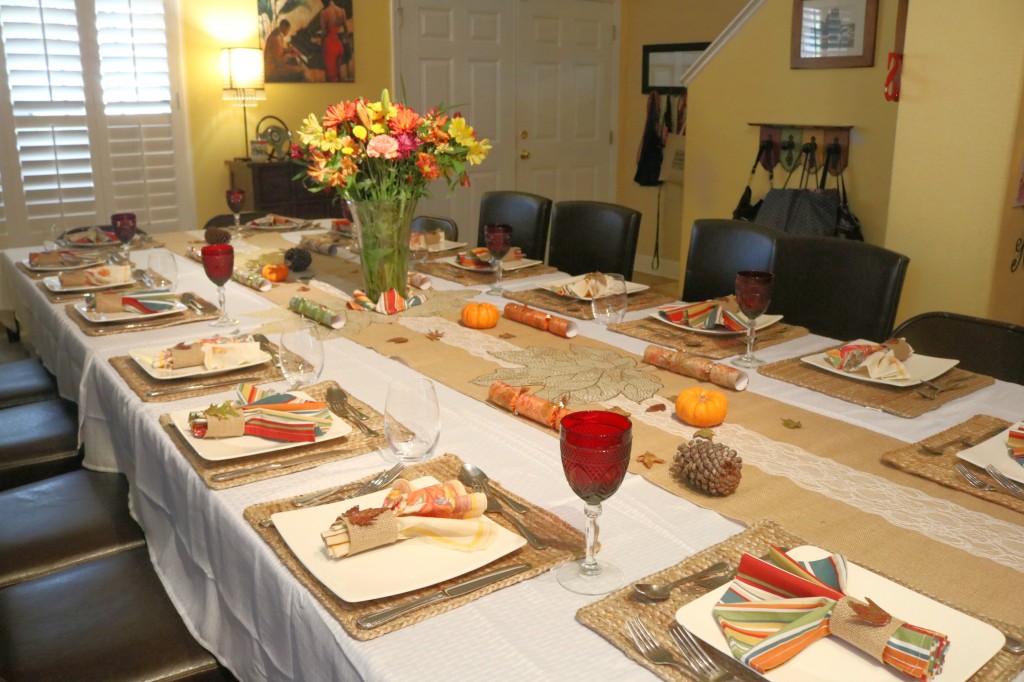 While looking for white tablecloths at Walmart, I stumbled upon wicker placemats on marked down for $1 each. For the runner, I used lace burlap found in the craft section at Walmart and placed a few pinecones and mini pumpkins on top of the runner.
Each place setting was set with our everyday white plates, flatware and used a mix of different wine goblets we already had. I found gold leaf placemats at Marshalls and the Thanksgiving crackers were a lucky fun find on clearance at Pier 1. The napkins were a combination of some old hand-me-down napkins from my mom and a set of 12 striped napkins I found on Amazon.
But it's the homemade napkin rings that make me most proud because they were made with love by my kids and I and something I can cherish for years.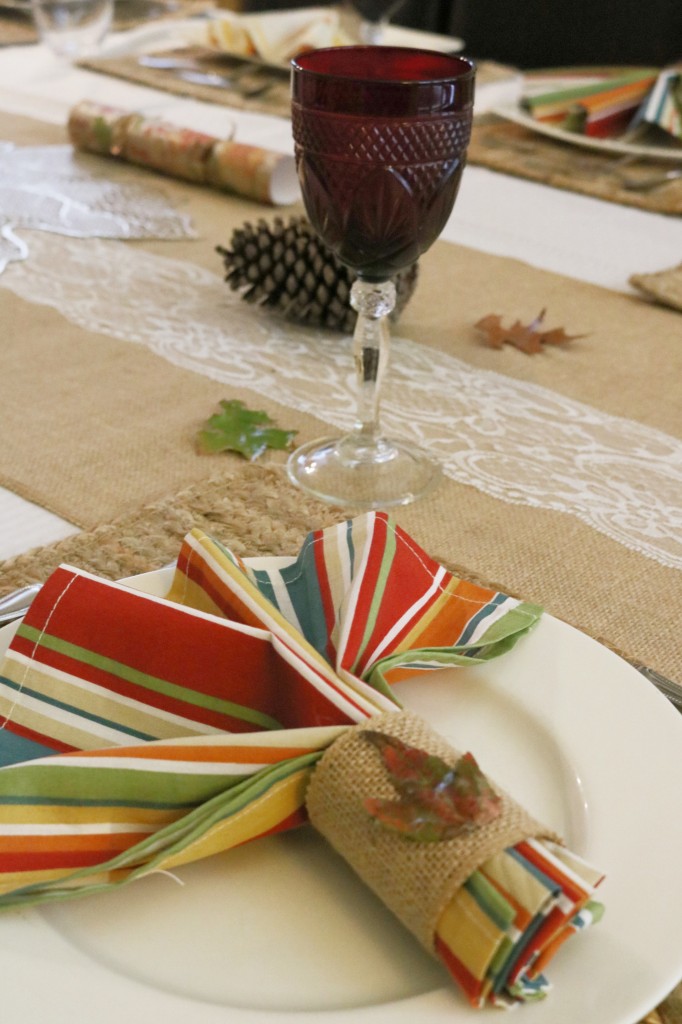 During my training runs, I collected some leaves and my kids collected some additional leaves from our yard. Using Modge Podge, we painted and shellacked each leaf to preserve the leaves and give them a glossy finish.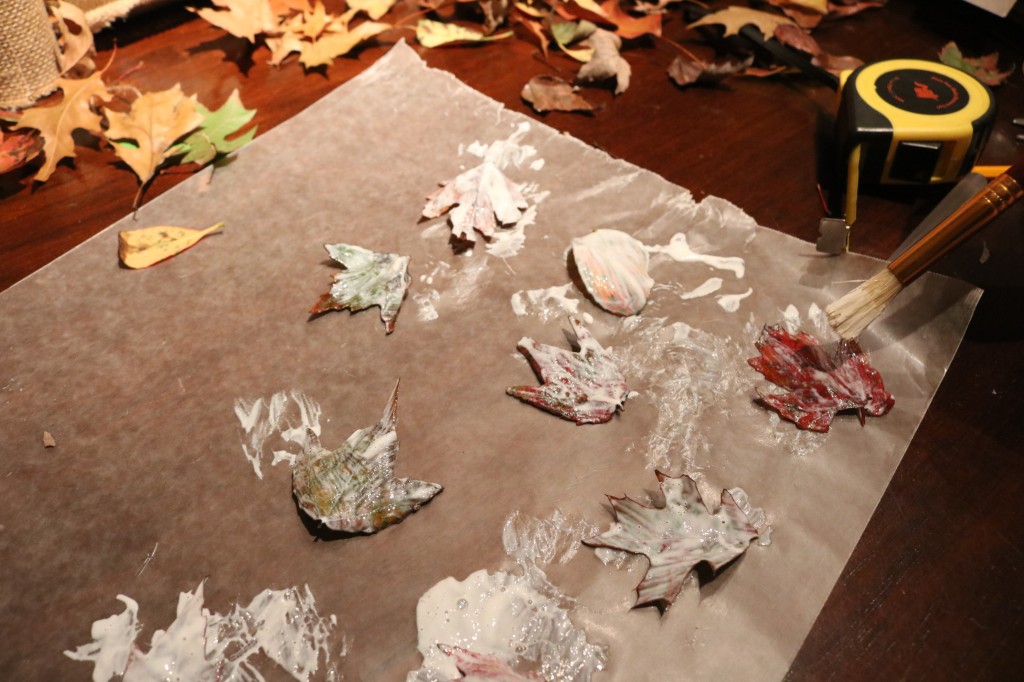 We saved some paper towel rolls and cut them down to about 3 inch in size. Then, wrapped each roll in burlap ribbon and hot glued the end.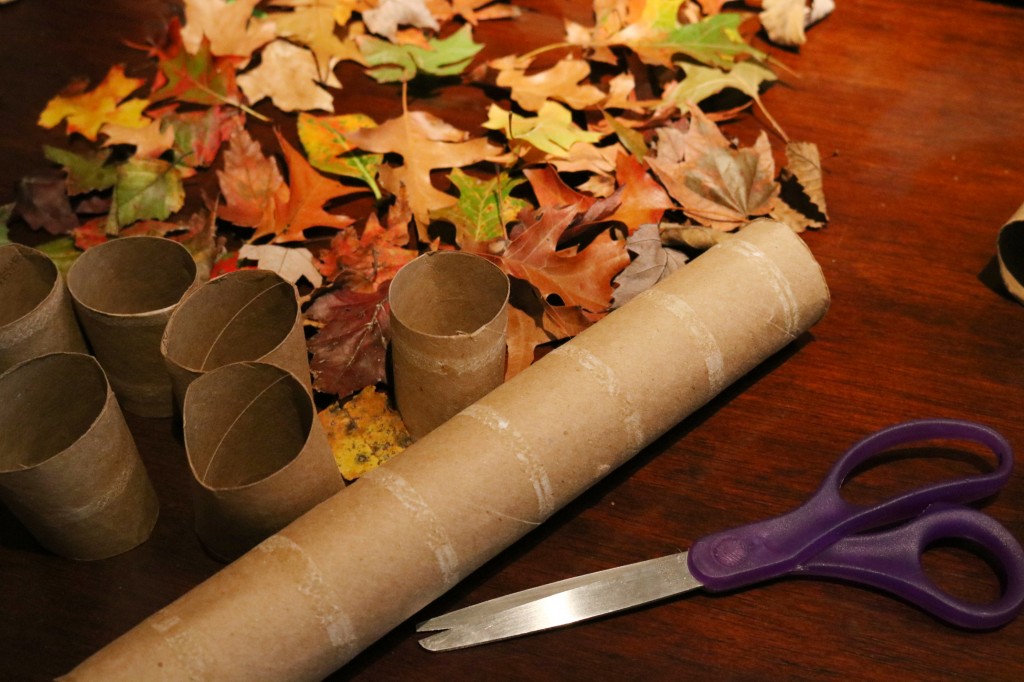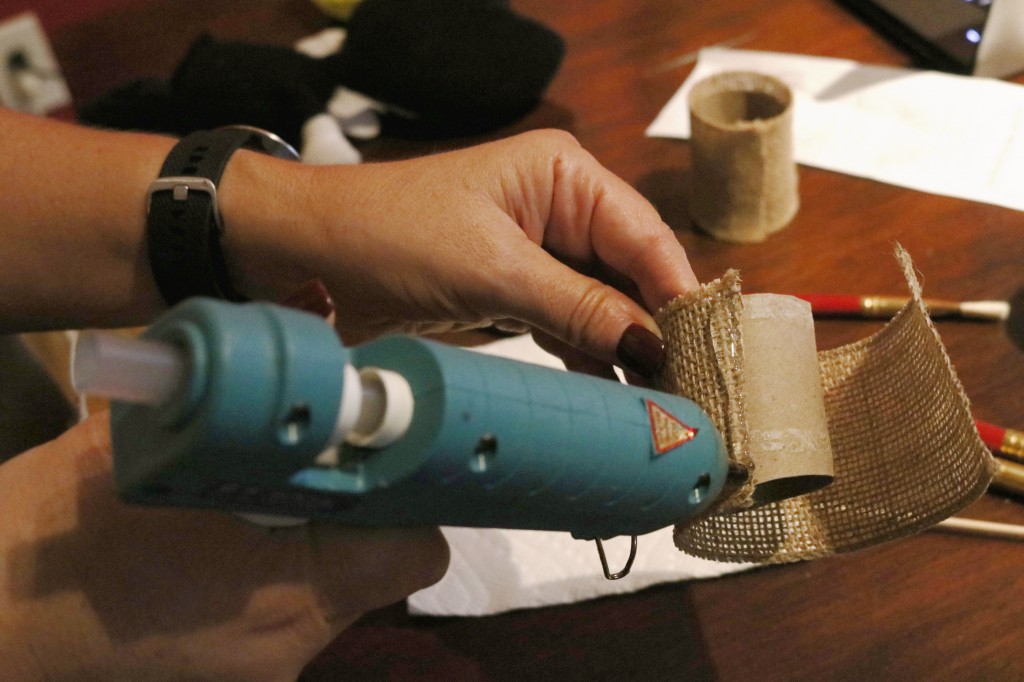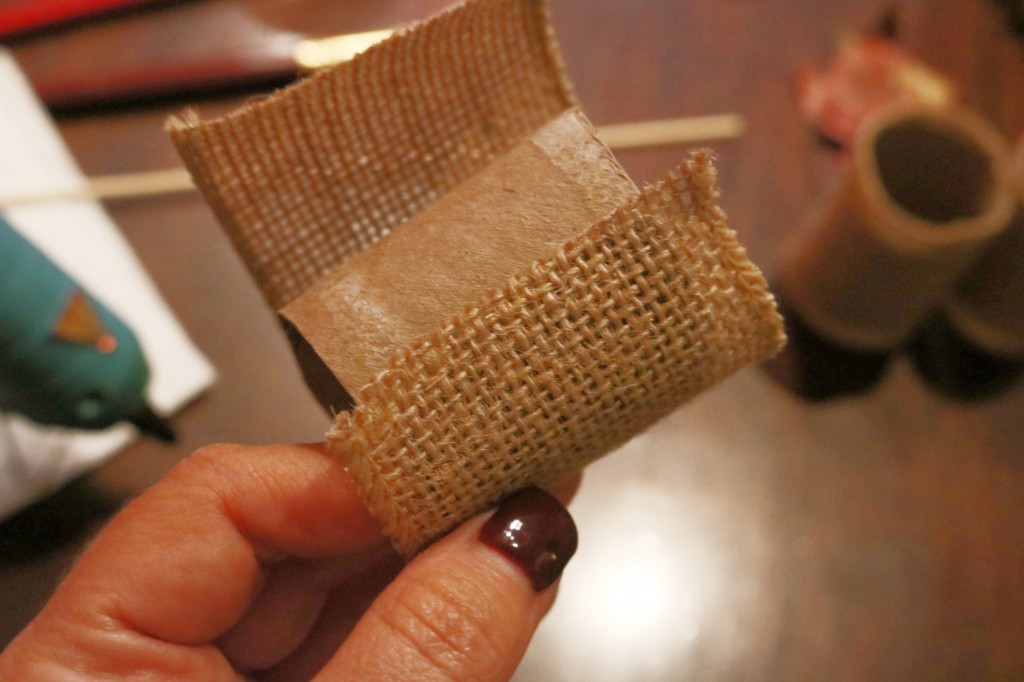 Once the Modge Podge leaves were dry, we hot glued one leaf onto each burlap ring. The extra Modge Podge leaves were scattered around our set thanksgiving table to give the tablescaping some extra fall flare.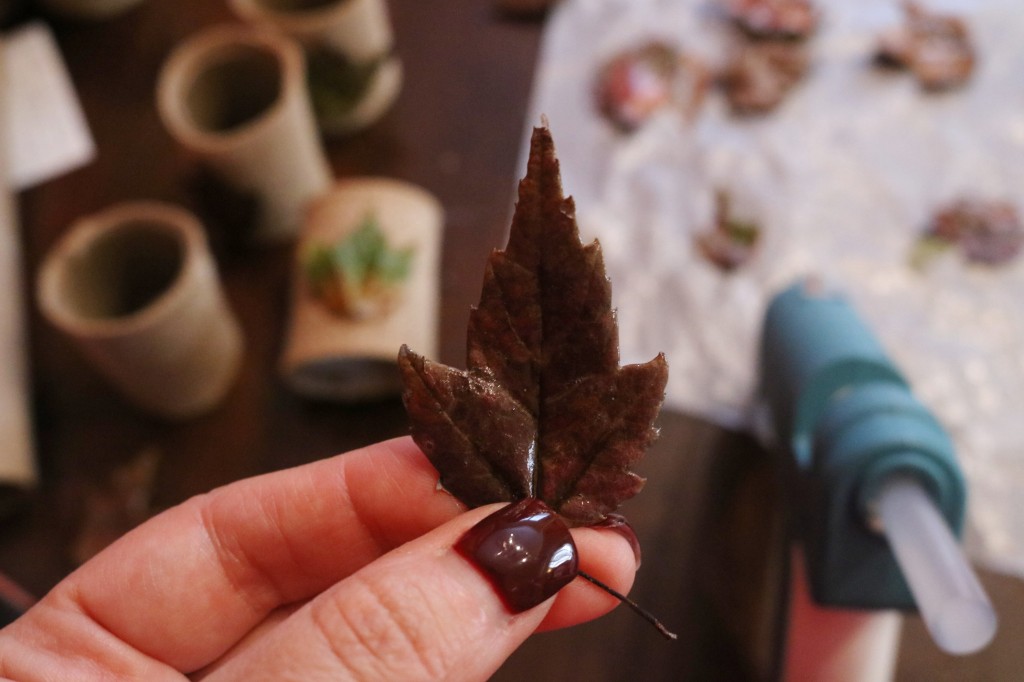 So simple and the results are beautifully festive!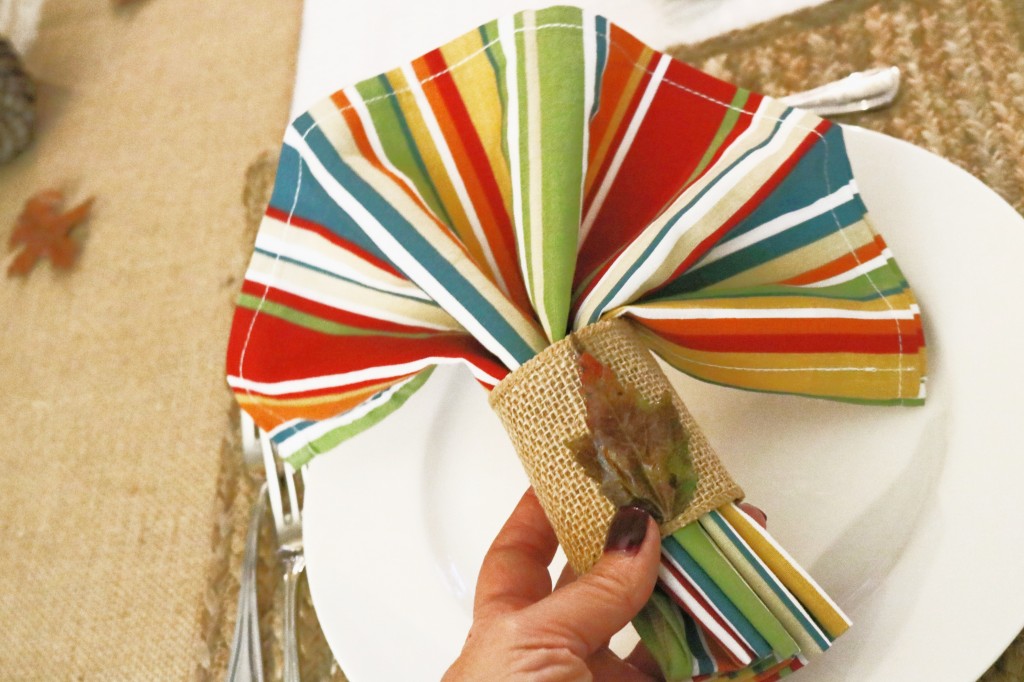 This year, Dad is thriving and we're heading back to the Blue Ridge again and of course, the napkin rings are traveling with us.
DIY Easy Thanksgiving Napkin Rings
Materials  (Makes 12 Napkin Rings)
Hot glue gun and glue sticks
Modge Podge – Gloss
Small paint brushes
Four paper towel rolls
Scissors
12 small leaves
1 roll of 3 inch Burlap Ribbon
Directions
Using a paintbrush, paint each leaf with Modge Podge; set aside to dry.
Cut paper towel rolls into 3 inch segments.
Cut burlap into 7 inch sections.
Add some hot glue to the tube. Place burlap on top  of glue. Then, wrap with burlap around tube. Hot glue the end the end of burlap to the tube. Repeat for remaining rolls and burlap.
Glue one leaf on top of each roll.