This morning, I ran 3.09 miles in 27:55.  I intended to bike 11 miles again today, however my DH informed me that he needed to leave for work early this morning, so I only had about a 30 minute window for my training.  In a crunch for time, I managed to squeeze in 8 miles in 33 minutes. 
I felt much more comfortable on Leslie's bike today.  It's a decent bike: Jamis Ventura Sport.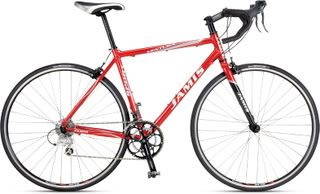 To prevent my poor va-jay-jay from going numb again, I was sure to attach the gel seat today. 
I spent the rest of the day stretching my muscles.  Hopefully, I will be able to get a good night's sleep.
Overall, I am really pleased with my progress since the Babes and Bums and I feel ready for the Chaotic Coteeman Triathlon tomorrow.  Wish me luck!