Five o'clock came early this morning and it was a struggle to get out of bed.  But somehow I managed to find the energy to run 6.25 miles in exactly an hour early this morning.
This morning's run called for some creativity to make the distance.  I simply could not run the same one mile lap 6 times.  How boring!  Cautiously, I attempted the mile long sidewalk along the boulevard to see how my knee would do.  I haven't run on the pavement since I hurt my knee last August, but today thankfully there was no pain!
Trying to rack up the miles, I ran through neighborhoods I normally save for Sunday's run, which are very creepy in the dark.  I never noticed before that there are no streetlights along the cypress swamps.  Perhaps, the swamp creatures would confuse a streetlamp for the moon.  As I ran pass the spooky swamps, I was terrified that an angry alligator would eat or a vicious armadillo would attack me.  I believe that my time sped up as I passed the swamps, but I was too afraid to stop and look at my Garmin in the dark to know for sure.
It finally feels like fall in Florida!  The weather was gorgeous this morning and perfect weather for running!  As I scurried by the sewers, a wall of warm air hit me which put a damper of my fall fun run.  I am convinced that warm air is the hot breath of a scary clown lurking down in the sewers. 
I also used this morning's run to test out my new running skirt, which I bought on clearance yesterday at Target.  I purchased the black skirt with pink trim specifically for Saturday's race.  It will compliment my Mom on the Go sport bra cami so nicely!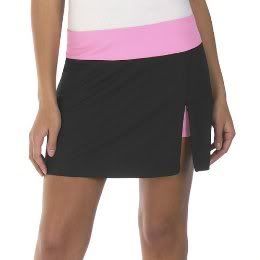 My running partner, Tiffany, had a similar skirt, but it kept slipping off her hips during one of our long Sunday runs.  This poor girl had to continually pull her skirt up during the entire 10 miles, which is why I wanted to give my new skirt a test run.  Fortunately, I did not have the same problem as Tiffany.  I suppose my big ol' booty bodacious badunkadunk helped keep my skirt in place.  But, I'll wear some black granny panties on Saturday just in case it slips a bit.  The black undies will fool others into thinking it's part of the skirt. 😉
This morning, I even summoned enough energy for a 9.30 mile bike ride in 41:44.  I am definitely getting better about falling off the bike.  When I stopped for a water break during my ride, I used the curb as a step stool and it helped my balance on the bike.  Unfortunately, the cars were not giving way to me and it was making me really nervous.  At one point, I lost control and fell, but luckily I aimed for the grass.  No road rash today!
Mixed in with the morning commuter traffic was the county's sewage works department cleaning out the sewers.  A long hose extended from a truck into a manhole.  I really hope they suck out the clown.  This must be a big job, because there were 6 men working on finding the clown.  Which made me think of a joke…
How many men does it take to clean the sewers? 
Six.  One to drive the truck, one to hold the hose and four others to smile at the pretty lady with the big ol'  badunkadunk on the bike as she rides by. 🙂 
Although, it's not really a joke.  The men did smile at me when I past them and since my new running skirt stayed in place, baby has got some serious back!