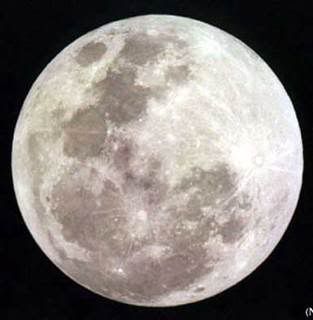 This morning, an usually large looming full moon illuminated the dark morning sky.  It made the perfect backdrop for a creepy horror film with a scary clown that lurks in the sewers as the main villain.
Actually, the beautiful oversized white sphere added the perfect touch for a romantic encounter with my stalker. 
I shouldn't really call him my stalker.  He is one of my neighbors who usually walks his dog during my Sunday runs.  But lately, I have been running around the same time he leaves for work.  Having run a marathon himself, he is very interested in my training and likes to make small talk about my runs.
Since it's been so dark in the morning, he often startles me when he pulls his SUV along side of me to chat with me.  But, I've seen one too many Law and Order SVU episodes to get to close to his car.
Then, this morning, I spotted him running through the neighborhood.  He ended his run just as I was stretching to start mine.
During his cool down, he walked over to chat with me about today's run.  His shirt had been removed exposing his lean ripped sweaty body which glistened in the moonlight.  
"How far are you running today?"
"Just 4 miles today.  And you?"
"Just 4 too", he replied.  "When is your marathon?"
"It's in January and I really need to buckle down and focus on my long runs."
"How far are you running on your long runs?"
"Still only 10." 
This is literally the longest I have spoken with my neighbor.  Feeling a little uneasy about chatting under the moonlight with a half-naked man other than my husband, I politely excused myself and started my run.
As I began running, revised lyrics to Moonlight played in my head.
Some run by night
Some run by day
Moonlight strangers
Who just met on the way. 

Not being able to think of another versus, I switched songs and made new lyrics for Strangers in the Night.
Strangers in the night exchanging paces
Wond'ring in the night
What were the chances we'd be sharing races
Before our runs were through.
I know it doesn't make much sense, but it made me giggle and helped me get through my run.  It also helped me forget about the scary clown in the sewers and my creepy overly friendly stalker neighbor.