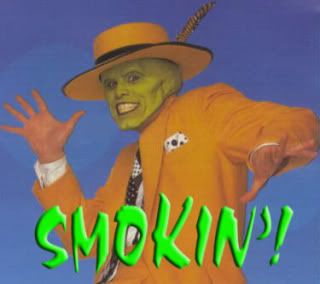 I really wish I was referring to my run.  Instead, I mean the trail was literally smoking due to a control burn at the park.  Tiffany and I set out to run 8 miles, but after about 2 miles into our run, we hit a thick wall of smoke. We tried to run through it but after a ¼ mile into it, it didn't seem to be clearing.  I couldn't take it any more and needed to turn around.  We headed back to the start of the trail with only four miles finished.  After a quick potty break and water stop, Tiffany and I couldn't get our momentum back and we struggled with the next two miles.  At 6 miles, I need to call it a day.
 6 miles
Time 1:03:40
Pace 10:36
When the other Striders returned from their runs, we learned that the fog of smoke was about ½ mile thick.  Our noble leader, David, assured me that turning around was the best thing I could have done.  I was just thankful that I remembered to take a hit off my inhaler before my run that morning.  Otherwise, it could have been a lot worse for me. 
Tiffany and I were really disappointed with our performances this week, but here's hoping that we can be at 8 miles next week.  However, if the park continues its controlled burns, Tiffany and I may need to get creative with our miles by running through the park instead of running along the trail with our new Strider friends.
On another note, the Faces of Courage Triathlon (the triathlon formerly known as Babes and Bums) is less than 3 weeks away.  Since it's been a couple of weeks since I've seen a pool, I decided to swim 16 laps this morning.  Coincidentally, my friend and neighbor, Allan E, happened to be training this morning in our neighborhood pool as well.  Allan will be part of my relay team for the Longleaf Triathlon this October, so of course I was happy to see him training, but I was even more thrilled when he gave me some pointers on my breathing techniques.  I've been trying to swim as far as I could on one breath and Allan suggested I breathe on every third stroke.  That simple tip really improved my swim today!  Now, I just need to work on my flip turns. 
So, in the past few days, I've improved my swimming and didn't fall off my bike.  It's been a good week.  Maybe I really have been smokin'?