For the past few months, Julia's Run for a Reason has been spotlighted at the top of my sidebar. Although it has been a long time in the making, we are thrilled that our event will finally happen.  This Saturday, we honor and remember Julia.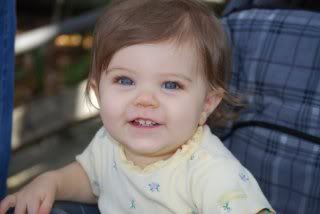 After Julia's untimely and tragic death, her family and friends wanted to do something to honor Julia's memory.  Since Jackie (Julia's mother) is an avid runner, a race seemed a logical choice to bring awareness to SUDC (Sudden Unexplained Death of Child) and meaning to such a sorrowful passing.
For our inaugural race, we had hoped for 250 participants, but as of today, we have close to 300 registrants.  The support from the community has been overwhelming.  After understanding the reason behind this event, running clubs, local businesses, extended family and friends have rallied behind our cause. Strangers are traveling from all over the Tampa Bay area to be part of this event.  We never expected the response that has been received and we are truly grateful for everyone's contribution.
I would like to extend a heartfelt thanks and my deepest appreciation to everyone involved.  Thank you for choosing Julia as your reason to run this Saturday.