For the past year, the countless efforts of many helped make Julia's Run for a Reason happen.  It started with a vision.  We wanted to do something big to remember Julia and inform the public about SUDC (Sudden Unexplained Death of a Child).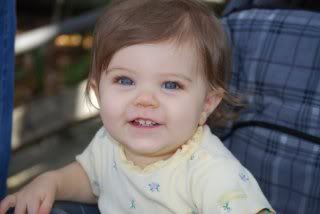 Jackie (Julia's mother) loves running and a race seemed like a logical means to remember Julia, however, the steps involved with making it all possible became overwhelming.  Thankfully, Jackie loved the idea and began soliciting family members and friends to help make this event happen, who in turn sought out even more help.  As our volunteers and support system grew, we began to move closer to what would soon become an outstanding event.
This past Saturday, the event finally took place and it was a huge success.  Despite being our first organized race, everything went smoothly.  Many participants were surprised to learn that this was our first race as it seemed we had been organizing races for years.
As one of the leaders of this event, I handled the children's activities.  We booked a DJ from Nature Coast Professionals Disc Jockeys, two bouncy houses, face painting, and crafts.   The Home Depot Team provided several kid workshop wooden kits.  Sunshine Massage offered back massages.  My committee also booked Elmo, Tommy the Turtle (a local church hero) and Plato the Publix Dinosaur.  All the aforementioned had been donated.
Volunteers also solicited other donations from the community for the most incredible raffles and fabulous food selections.  Additional volunteers worked endless hours delivering brochures, stuffing magnificent goodie bags, wrapping raffle items, hanging signs, handing out water and medals, directing traffic, setting-up and tearing down, and distributing registration packets.
When I think about all the work, sweat, blood and tears (literally) that went into making this happen, I get goose bumps.  In the end, we had 352 participants when we had hoped for at least 250 and we raised close to $20,000.
Thank you to everyone involved for making this event truly incredible.
And like icing on the cake, rumor has it that a rainbow appeared at the start of the event.  Although I personally did not witness it, others remarked on the miraculous occurrence.  It was as though Julia gave us an approving smile and thanked us for what we achieved in her name.
For more photos of our event, click here.  To view the race results or to make an on-line donation, please visit angeljulia.com.