This past weekend, my friend, Kelly, hosted our Annual Adult Halloween party, which was a blast of course.  I love slipping away for some grown-up fun, but throw a costume party into the mix and it's becomes a great excuse to let your hair down or in my case, my store-bought blonde hair down.
My DH, Allan, doesn't like to dress up for Halloween, so each year I try to pick a couple's costume that offers some freaky fun for me while allowing Allan to dress comfortably and casually with minimal Halloween garb.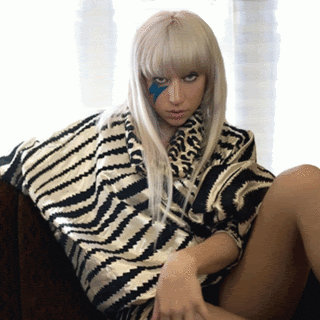 This year, I dressed as Lady Gaga.  My Lady Gaga look was inspired by her Just Dance music video.
With Lady's Gaga's latest hit, Paparazzi, our couple's costume was a snap.  Add a few cameras and a press pass and Allan's paparazzi look was complete.  Unfortunately, whenever we posed for a picture together, Allan's arm would tug on the back of my wig and jack-up my bangs, which made my bangs look like they were trimmed with a weed-whacker.
There were so many great costumes at the party, like my friend Stacey's Run DMT costume.  Between the jazz hands, the Cheshire Cat grin and the over-the-top enthusiasm, she nailed me pretty well.  How scary is it that?!
My favorite costume of the evening was Erika's Octomom.  Her hubby, John, dressed as her sperm donor.
We have another adult Halloween party at Leslie's on the 30th.  I can't wait for some more freaky fun and to get one more use out of my Lady Gaga get-up.  But next time I let my hair down, I need to remember to keep it in my eyes.