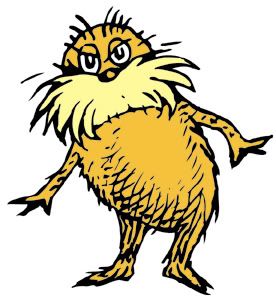 For years, I have protested off-shore drilling simply because the idea of an oil rig sitting off in the distance of our eco-sensitive Gulf shores (even 125 miles off shore) never sat well with me and my stance on the issue caused many heated debates with friends. As Sarah Palin, the GOP and their supporters shout "Drill, Baby, Drill!" with our Gulf waters their prime target, the prospect of oil rigs erecting in our coral reefs appeared imminent and the idea continued to make me ill and furious.
My friends would argue about it lessening our dependence of foreign oil and I would discuss the importance of seeking alternate energy sources. Since we had opposing viewpoints, the arguments always seemed moot and only led to me writing my representatives to voice my concerns.
I am the Lorax. I speak for the seas.
I speak for the seas, for the seas have no tongues.
And we simply cannot go drilling
Along as we please.
Then, just weeks before Earth Day, President Obama agreed to explore more off-shore drilling options and my heart sank like a sunken treasure to the bottom of the Gulf of Mexico. It appeared that I had lost every argument along with every hope of keeping our coral reefs rig free. Now, I sat in the same boat as Al Gore and Flipper , because oil is the thneed which everyone needs.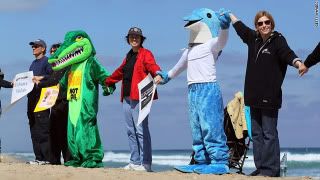 Then, like an ironic twist of fate, an oil rig exploded off the shores of Louisiana the day before Earth Day. As black sludge and smoke overshadowed our green "Save the Earth" celebrations, we mourned the loss of the 11 men who died in the explosion as well as the loss of our precious wetlands and a fishing economy which thrived from those waters.
With more than 210,000 gallons of oil pouring into the Gulf a day, experts predict that the oil spreading throughout the Gulf will surpass the oil spill created by the Exxon Valdez in approximately two months. Now, like many other Florida residents, I worry and wait to see how the oil spill will affect our wildlife, our beaches, our tourism, our economy and our livelihood.
On Saturday evening, my family and I ate at our favorite waterfront restaurant to soak up our beautiful Gulf view before the oil washes upon our shores.
In the meantime, I've stocked up on Dawn dish detergent to help clean up the oil slick Swomee-Swans and the Humming-Fish when they arrive to escape the Gluppity-Glupp and Schloppity-Schlopp.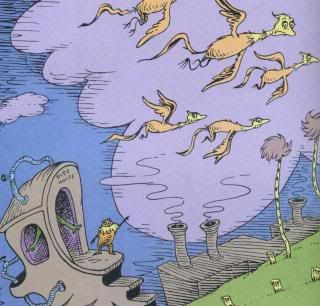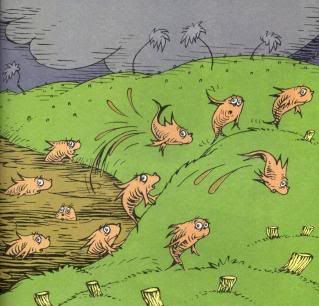 Excerpts from Dr. Suess's The Lorax
I am the Lorax," he coughed and he whiffed.
He sneezed and he snuffled. He snarggled. He sniffed.
"Once-ler!" he cried with a cruffulous croak.
"Once-ler! You're making such smogulous smoke!
My poor Swomee-Swans… why, they can't sing a note!
No one can sing who has smog in his throat.
And so," said the Lorax,
"-please pardon my cough-
they cannot live here.
So I'm sending them off.
"Where will they go?
I don't hopefully know.
They may have to fly for a month… or a year…
To escape from the smog you've smogged up around here."
"What's more," snapped the Lorax. (His dander was up.)
"Let me say a few words about Gluppity-Glupp.
Your machine chugs on, day and night without stop
making Gluppity-Glupp. Also Schloppity-Schlopp.
And what do you do with this leftover goo?
I'll show you. You dirty old Once-ler man, you!
"You're glumping the pond where the Humming-Fish hummed!
No more can they hum, for their gills are all gummed.
So I'm sending them off. Oh, their future is dreary.
They'll walk on their fins and get woefully weary
in search of some water that isn't so smeary."
"But now," says the Once-ler,
"Now that you're here,
the word of the Lorax seems perfectly clear.
UNLESS someone like you
cares a whole awful lot,
nothing is going to get better.
It's not.