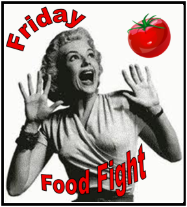 What do you when you don't have all the ingredients necessary to make your favorite dish?  You improvise and do what I call a Recipe Recovery.
Like many moms, I plan our week's menu every Sunday and then restock our fridge and pantry with grocery items needed to complete our menu.  Usually, our fridge is full of garlic bulbs and Spanish onions because they are the key ingredients in so many of our favorite dishes.
With the weather being so cold here in Florida which is anything below 60 degrees (Hey, we're spoiled!), soup is always on the menu.  One of my family's favorite soups is Chicken Sausage and Bean Stew, which was introduced to me by Maris of In Good Taste.
But when I started to sauté my sausage for the soup, I realized there were no Spanish onions in my fridge.  I had forgotten to buy them this week.  Fortunately, I found a red onion and figured it would work and perhaps give the soup a new and interesting flavor.
When I served the soup to my family, everyone ate it happily as usual and no one was the wiser, except for Iron Chef Allan.  He knew something tasted different about it, but couldn't put his finger (or tongue) on it.  He still enjoyed it, though.  The girls always eat their stew with grated Parmesan cheese and I believe the snowy mountain of Parmesan cheese masked my recipe recovery.
As for the recipe, I've modified Maris' a bit since I first discovered it two years ago.  For one, I've omitted the marjoram because I don't care for the taste of it.  I also prefer Al Fresco Sweet Italian Chicken Sausage because their products do not contain any MSG or nitrates.  These links are typically found in the hot dog section of your local supermarket.
Chicken Sausage and Bean Stew
Ingredients:
2 Cans Cannellini Beans
1 Package Al Fresco Sweet Italian Chicken Sausage
2 Tbsp Olive Oil (use more or less, depending on your pan)
1 Large Spanish Onion, chopped
4 Cloves Garlic, minced
1 (14.5 oz) can petite dice tomatoes with juice
1 tsp Oregano
2 cups Chicken Broth
salt and fresh ground black pepper to taste
1/4 cup chopped fresh basil
1 Tbsp Balsamic Vinegar
Fresh Grated Parmesan (optional)
Directions:
Place 2 cans cannellini beans into colander placed in the sink. Rinse well with cold water, until no more foam appears. Let drain.
While beans are draining cut sausage into half lengthwise, then cut into half-moon shaped slices. Heat olive oil in stock pot, then sauté sausage until well browned.   When sausage is well-browned, remove to bowl.  Add chopped onion to pot and sauté until onion is translucent and soft.  Then, add garlic and sauté with onions about 2 minutes more.
Add tomatoes and juice, dried oregano and chicken stock to pot with onions and garlic. Add sausage back to pot and cook at very low simmer for 30 minutes, until flavors are well blended.  After 30 minutes, add drained beans and simmer for 15 minutes more.
After the beans have simmered for 15 minutes, add chopped basil and balsamic vinegar and simmer for 5 minutes more.  Add salt and fresh ground black pepper as desired.
Serve stew with freshly grated Parmesan cheese if desired.
Now link up and see what If I Could Escape and Gone Bananas are serving for this week's Friday Food Fight.
Powered by Linky Tools
Click here to enter your link and view this Linky Tools list…
*Also submitted at*