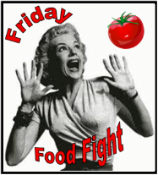 When Karen, Kirsten and I began co-hosting Friday Food Fight for over a year ago, I would have never considered myself "foodie" and it stuns me when someone uses that adjective to describe me.  Me? Foodie?   I mean, I love food and all but I'm not like Julia Childs or anything.
For years, my DH, Iron Chef Allan, did most of the cooking in our house.  Anytime I attempted to cook, he stepped in and took over and honestly, I was happy he did.  Cooking was always a chore for me, like laundry or ironing.  But when his work schedule changed, I found myself preparing most of the meals out of necessity.  After all, we needed to eat.  With a twist of fate and a twist of lime, I learned I could cook and what I produced was pretty darn tasty.
Through a year of Friday Food Fights, I've discovered a new appreciation for food through preparing meals and photographing them.  So I suppose, in some sense of the word that does make me foodie.  I'll take it, like some yummy take-out food.
And speaking of yummy food, I present to you The Best Friday Food Fight 2011 Edition!
Best Breakfast Food – Although Iron Chef Allan's makes some pretty spectacular pancakes, I found my thrill on a hill of blueberry scones made with fresh picked blueberries.
Best Running Fuel Food – The protein and carbs in Lentils and Pasta packs a lot of punch to go the miles.  Just remember to take some Gas Ex so you don't toot while you trot.
Best Snack/Appetizer – My hummus is always a huge hit.  If anyone ever catches onto how easy it is to make, my popularity will stale like an old bag of chips.
Best Soup – Soup is love because it warms your innards from your head to your toes and in the winter months, this hearty Chicken Sausage and Cannellini Bean Stew is always simmering on our stove.  We've even taken a batch camping.
Best Sandwich – Fo' Sure it had to be Shrimp Po'Boy.
Simplest Dish – Even when it appears there's nothing in the house to eat, you can guarantee I have all the ingredients in my pantry to make this oh-so-simple-pasta sauce which pairs nicely with any pasta.
Best Pasta Dish – You know it has to be good when your food is featured on Today Show- Food.  I just made some Baked Penne with Eggplant and Chicken Sausage a couple weeks ago and froze half for dinner another night.  Mmmmmm…Maybe tonight is the night?
Best Use of Leftovers – This was a tough call for me.  I love leftover roasted chicken for chicken salad, but then I love leftover Thanksgiving turkey for turkey enchiladas.  I'll let you be the judge.
Strangest Combination – I'm referring to the "Healthy" Chicken and Waffles, of course and not my SIL and me.
Best Themed Meal – Although my kids weren't to pleased with the Green Eggs and Ham, I still earned an star upon thar for my effort.
Spookiest Dish– Any dish that looks at you while you're eating it has to be pretty spooky in my book.  Mummy Pizza were a perfect spooky, fun food for Halloween.
Best Dessert – Hands down, it had to be the Frostbitten Red Velvet Brownie Bites.  Between how easy they were to bake to the presentation, I impressed myself!
Best Beverage– Just looking at this frosty, cold margarita has me craving one again. Is it 5:00 yet?
What was your favorite Friday Food Fight post?  Which dish are you craving to see again?
Link up and share your favorite Friday Food Fight post and while you're here see, what If I Could Escape and Gone Bananas are flinging for this week.
*Also shared at*