Bella's Italian Café is one of our favorite Tampa restaurants.  I dream of their homemade pastas and specialty sauces, especially Bella's Roasted Tomato Cream Sauce.  But eating out every time I get a craving simply doesn't fit into our budget not to mention what wouldn't fit into my pants!  So when I spotted the Monterey Pasta Company Raviolis on sale at our local supermarket, I decided to create my own little Bella's dinner at home.
We've tried several varieties of these Monterey raviolis and they are all delicious, but for my Bella-like dish, I selected the smoke mozzarella and artichoke.
Then, I let my creativity juices flow (with the help of Iron Chef Allan).  I dabbled with a little of this and a lot of that and VOILÀ!  A beautiful Bella-like dish emerged!  The smoked mozzarella raviolis and this sage sauce were a perfectly delicious combination!
Run DMT's Sage and Sundried Tomato Cream Sauce
Ingredients
1 Tbsp olive oil
1 onion, chopped finely
4 garlic cloves, minced
26 oz chopped tomatoes (Pomi Chopped Tomatoes or Muir Glen Fire Roasted Tomatoes for a smokier flavor)
4-5 pieces of sundried tomatoes (in oil), chopped finely
1 tsp dried sage
1 tsp salt
½ tsp ground black pepper
¼ tsp crushed red pepper flakes
1/3 cup heavy whipping cream
Directions
On a low heat, sauté the onions in olive oil until translucent.  Add garlic and cook until soft.  Add sun-dried tomatoes and warm through the onions and garlic, about a minute or two.  Stir in tomatoes and spices and cook for about 5 minutes.  Then, slowly stir in cream until well combined and warmed through sauce.  Remove from heat and serve over your favorite pasta.  I recommend the thicker chunkier pastas such as rigatoni or penne.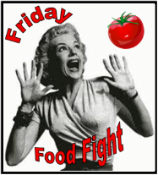 Even though Karen is back in the States, we're continuing to fling foods at one another. Link up and see what If I Could Escape and Gone Bananas are serving for this week's Friday Food Fight.
*Also submitted at*