When I found this fun foodie kid craft flying around on Pinterest, I knew my girls would love to make them.  I love the simplicity of these treats, but they sure are messy.  Or maybe my kids are messy?!  Messy or not, these witch hats are tasty and cute!
For the base of the witch hats, we used one Fudge Stripes cookie face down.  Unfortunately, our Fudge Stripe cookies were stuck together and fudge stripes appeared on both sides.  But then, Allana had the brilliant idea to cover the damaged cookies with orange decorating gel to help camouflage the stripes.  What a smart cookie!
Then with the help of some orange icing, we glued a Hershey's kiss in the center.  We had some extra bat candy, bone candy and sprinkles leftover from the girls' Haunted House cookie project (which was an absolute disaster), so the girls used the leftover candy to add embellishments to their hats.
They were so proud of their witch craft!
Witch Hats
Ingredients
Hershey Kisses
Orange Icing
For Orange Icing
½ cup butter
2 cups confectionary sugar
2 tsp vanilla
1 pinch of orange icing gel
Directions
Mix ingredients for icing until well combined.  Add more liquid for the consistency you desire.
Assemble the witch hats by applying 1/2 tsp of orange icing to the bottom of a Hershey kiss and pressing the chocolate drop into the middle of cookie.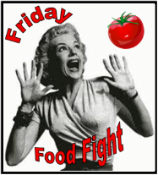 Now link up and see what If I Could Escape and Gone Bananas are serving for this week's Friday Food Fight.
*Also submitted at*