I'm one bad mother baker.  I got made piping skillz, yo.
Check it out.  This is the chocolate chip cookie cake I made for Allana's class for her tenth birthday.

Iron Chef Allan was pretty impressed. But he better step off, 'cause I'm as smooth as this icing, baby and he can't touch it.
Then on Wednesday, the kids and I baked Rolled Sugar Cookies for our neighborhood firefighters as part of our 30 Days of Giving.  We used the same vanilla butter icing and the kids each chose a color for the icing.  They did a gorgeous job decorating the cookies and they tasted pretty darn good too.
Like I said, I'm one bad mother baker.
Word.

Rolled Sugar Cookies
Ingredients
1/2 cup sugar
1 stick unsalted butter (1 stick), softened
1 tsp vanilla
2 eggs
2 1/2 cups sifted all-purpose flour
2 tsp baking powder
1/2 tsp salt
Directions
Cream together sugar and butter.  The beat in vanilla, eggs, flour, baking powder and salt.
Chill the cough for 3 to 4 hours before rolling.  Preheat oven to 375 degrees.  Use a melon baller to scoop and roll dough into 2 inch balls.  Place cookie dough on a greased on lined cookie sheet.  Bake 7 to 12 minutes. Let cookies stand for 5 minutes before moving them to a cooling rack to cool. Once completely cooled, decorate as desired.
Quick Vanilla Icing 
Ingredients
2 cups confectioner's sugar, sifted
1/4 cup  (1/2 stick) unsalted butter, softened
2 tsp vanilla
Directions
Combine in a medium bowl and beat together on a medium speed.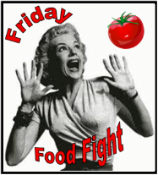 Now link up to win and to see what If I Could Escape and Gone Bananas are flinging for this week's Friday Food Fight.
But wait!  There's more!  The winner of our very first Friday Food Fight giveaway and proud new owner of Joy of Cooking is….
Based on last week's linky, #11 is The Rickett Chronicles!  Congratulations! A big THANK YOU to everyone who entered a foodie photo! 🙂
*Also submitted at*