Like I mentioned in my previous post, my mom, my sister and I set a date for our "Annual Marathon Christmas Cookie Baking Day" and I've already dog-eared some of my favorites and pinned some new ones to try on Pinterest.
Like any marathon, a baking marathon requires some training to ensure a peak performance or PB (personal best).  I made this "test batch" of Oatmeal Craisin White Chocolate Chip Cookies as a gift for my Suncoast Strider friends and they came out perfect!  Of course, when Iron Chef Allan tastes them, he'll tell me how to improve them ask me why I didn't make a batch for him and the girls.
I better start baking another batch before he gets home before I eat them all.  I need all the "training" I can get.
Oatmeal Craisin White Chocolate Chip Cookies
Ingredients
2/3 cup butter
2/3 cup brown sugar
2 large eggs
1 tsp vanilla
1 ½ cups old-fashioned oats
1 ½ cups flour
1 tsp baking soda
½ tsp salt
1 – 6 ounce package Ocean Spray Craisins Original Sweetened Dried Cranberries
2/3 cup white chocolate chips
Directions
Preheat oven to 375˚F.
Using an electric mixer, beat butter and brown sugar together until light and fluffy.  Then, add eggs and vanilla and mix well.
In a large bowl, combine oats, flour, baking soda and salt.  Then, add butter mixture in several additions, mixing well after each addition.  Stir in dried cranberries and white chocolate chips.
Drop by rounded teaspoons onto ungreased cookie sheets.  Bake for 10-12 minutes or until golden brown.
Makes approximately 2 ½ dozen cookies.
Now link up and see what If I Could Escape and Gone Bananas are flinging for this week's Friday Food Fight.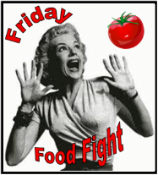 Do you have a favorite Christmas cookie or treat you bake and share every year?
On December 1, a few blogger friends and I will be hosting The Ultimate Virtual Christmas Cookie Recipe Swap and you're cordially invited!  So, dust off your favorite Christmas cookie recipes, preheat your ovens and set your timers for Thursday, December 1, when our blog hop goes live.  Then, snap some photos of your gingersnaps or whatever other tasty treats you want to share for The Ultimate Virtual Christmas Cookie Recipe Swap!
More details to digest soon!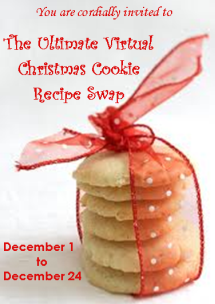 *Also submitted at*