I read somewhere that Zooey Deschanel's voice helped land her role in Elf.  Since first watching that movie, my husband has had a crash on Zooey Deschanel all in part to her voice.  Normally, Allan doesn't have a thing for blondes, but he could see past this siren's golden locks in part to her soulful, sleepy bedroom voice.
[youtube=http://www.youtube.com/v/jPH_HT741Ew?version=3&hl=en_US]
Once he learned she was a brunette, Zooey Deschanel had a permanent spot on Allan's laminated list somewhere between Marisa Tomei and Amy Adams.
Honestly, I'm not the biggest fan of Zooey Deschanel's voice.  I'd prefer to watch her in (500) Days of Summer or as the adorkable Jess in her new hit comedy, New Girl rather than listen to her sing.  However, I had a change of heart when I heard She & Him's In the Sun, but more recently when I heard their new Christmas album, A Very She & Him Christmas.
More than another Christmas album filled with favorites, She & Him honors these songs with pure and simple renditions, perfect for cool nights drinking hot cocoa in front of a fire while gazing at the tree.  In a world of autotune and over produced music, each song sends you back to an era of a simpler time when families sat around a radio for enjoyment.
My favorite song on the album is The Christmas Waltz.  Zooey's style and tone reflects the true heart and feel of the song.  Watch She & Him's live performance on The Tonight Show with Jay Leno.
[youtube=http://www.youtube.com/v/FVaFoAIVzok?version=3&hl=en_US]
I've downloaded the songs from amazon and on the sly, I'll add a few songs to Allan's player as a surprise for our anniversary in a few weeks.  Christmas songs by She & Him will make a sweet, romantic gift, especially since Zooey's voice is like sugar straight from the candy cane.  (Watch out, Jewel!)
Pssst!  Speaking of gifts….Don't miss this one!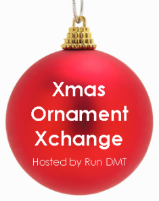 Visit Xmas Dolly and Hairbows & Guitar Picks for more Music Monday fun.