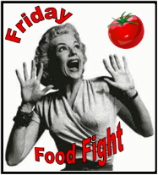 Last Friday, I blogged about The Great Pumpkin Palooza for Thanksgiving!  This was no joke.  Iron Chef Allan and I really did bake an unbelievable amount of pumpkin goodies.  I have enough material for four more Friday Food Fights, but I'll spare you the pumpkin, because it's Christmas and I'm ready to move onto some peppermint goodies.
Well, maybe just one more pumpkin treat because these pumpkin biscotti were so yummy.  All right then, I'll share one more pumpkin treat with you because it is Christmas.  And then, next week no pumpkin for you!
I found this recipe and all things pumpkin at My Baking Addiction.  The white chocolate drizzle compliments the pumpkin pie flavor nicely, however, these pumpkin biscotti have a chewy center rather than a crunchy center like most biscotti.  Perhaps it should be called Pumpkin Pie Biscotti because then you might anticipate a moist center.  That's what she said.  Either way, this biscotti is a tasty Thanksgiving snack while sip your coffee.
Pumpkin Biscotti (from My Baking Addiction)
Ingredients
3 ½ cups all-purpose flour
1 ½ cups firmly packed brown sugar
2 tsp baking powder
½  tsp salt
2 tsp pumpkin pie spice
½ cup pumpkin puree
2 large eggs, lightly beaten
1 Tbsp vanilla extract
2 Tbsp butter
1 ¼  cup nuts, coarsely chopped (I used almonds.)
White chocolate chips (optional)
Directions
Preheat oven to 350*F.
Combine flour, brown sugar, baking powder, salt and pumpkin pie spice in a large bowl; stir well. In another bowl, combine pumpkin, eggs, and vanilla, stirring well with a wire whisk. Slowly add pumpkin mixture to flour mixture, stirring until dry ingredients are moistened. Mixture will be very crumbly.  It will gradually become moist after stirring.
Melt butter in a large skillet over medium heat; add nuts. Cook, stirring constantly, until nuts are browned. Remove from heat and cool completely.
Knead or gently stir cooled nuts into dough. Place dough on a lightly floured surface and divide into 2 portions. Lightly flour hands and shape each portion into a 2 x 10″ long log. Place logs 3″ apart on lightly greased cookie sheet. Bake for 24 minutes; cool logs 15 minutes. Reduce oven temperature to 300 F.
After some cooling, move a loaf to a cutting board and cut diagonally into 1/2″ thick pieces. Do the same to the other loaf. The interior of each biscotti should still be just a little moist (while the exterior is nice and hard). The crust of the loaf will probably be quite hard, so use a large serrated knife such as a bread knife for this job.
Place the biscotti with a cut side facing up on a half sheet pan and bake for 8 minutes. Remove the pan and flip all the biscotti over so the other cut side is now facing up. Bake for another 7 minutes. Set all the pieces on a wire rack to cool making sure that none of the biscotti are touching each other. If the biscotti are placed too close together, they could get a little soft or soggy as they cool.
Once the biscotti have fully cooled, they can be consumed as, white chocolate dipped or drizzle with white chocolate.
For a white chocolate drizzle, melt some white chocolate chips and add the melted chocolate in a Ziploc bag.  Cut a small opening in one corner and drizzle it across the biscotti.
The biscotti tastes best during the first few days, but will keep for up to a month in a sealed air-tight container.
Now link up and see what If I Could Escape and Gone Bananas are flinging for this week's Friday Food Fight.  And while you're here, feel free to toss share your cookies at The Ultimate Virtual Christmas Cookie Recipe Swap.  
*Also submitted at*