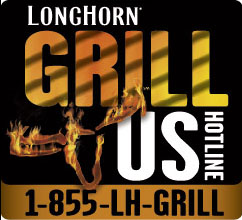 Since July is National Grilling Month, the folks at LongHorn Steakhouse lassoed twenty-five of their certified Grill Masters to launch the LongHorn Grill Us Hotline.  From choosing the best, freshest cut of steak, to achieving the correct grill temperature and using proper seasoning techniques, LongHorn's certified Grill Masters are available to answer consumers' burning questions and help take the heat off cook-out preparation.
For the next three Saturdays (July 13, 20 and 27), grill enthusiasts can post questions to LongHorn Steakhouse's Facebook wall from 2 p.m. to 7 p.m. EST and a LongHorn Grill Master will answer it in real time.   Add the hash tag #LHGRILL to follow the conversation and view others' questions.
By why wait?  TheLongHorn Steakhouse Grill Masters have some suggestions on How to Grill a Great Steak.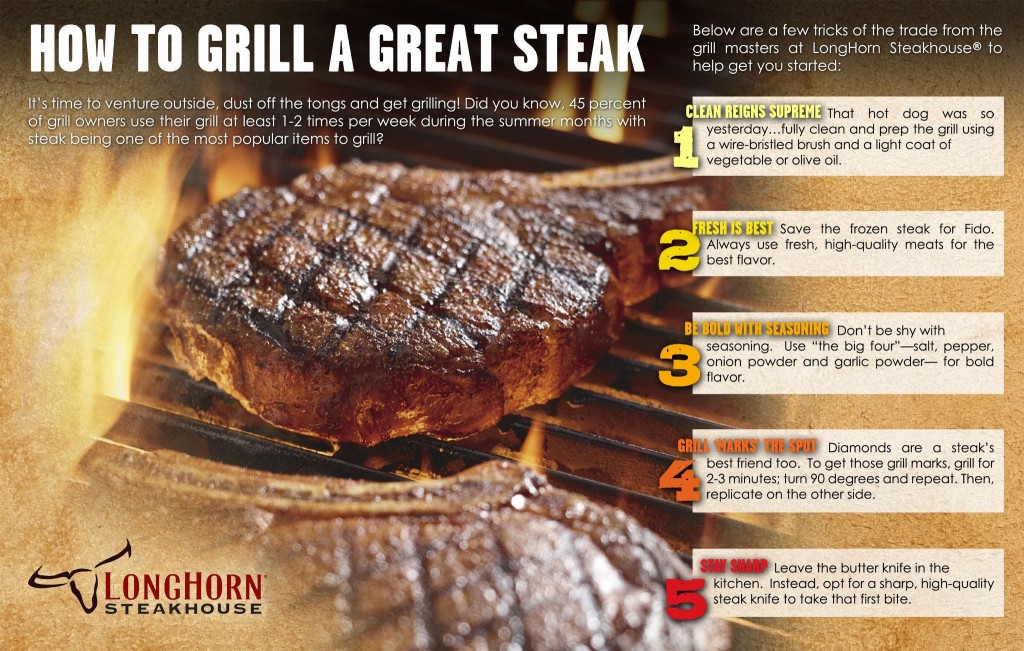 Our own resident grill enthusiast, Iron Chef Allan, had a few grilling question.  LongHorn Steakshouse Grill Master and Managing Partner, Pete Hartman, was happy to answer them.
We love to grill chicken, but sometimes it dries out on the grill.  What are your recommendations for grilling chicken safely so that it stays moist and delicious?
"For starters, always use fresh, high-quality meats to throw on the grill, just like we do at LongHorn. 
For chicken, you have to grill at lower temperatures, close the lid and use a meat thermometer to check the temperature. For boneless and bone-in chicken, you need to get the chicken to 165F, so use a meat thermometer to insure it's thoroughly cooked. For chicken that is not cut into pieces – like a half or whole chicken, you need to check the joint at the leg/thigh and insure it is 165F; that is the part of the chicken which takes the longest to get hot.
If you've overcooked your chicken, a good way to "cover it up" is to "smother it" with sautéed mushrooms or onions/peppers and melt some cheese over it.  You can also turn it into BBQ chicken and brush with BBQ sauce to moisten it up. "
How do you handle flare-ups? Once in a while when cooking fatty meats such as sausage or rib-eye steak, the grill will flare badly.  I've ruined more than one steak this way.
"The quickest and easiest way to deal with any kind of flare-up is to move the meat away from the flame and mist the charcoal with a little water using a spray bottle. If you are cooking on a gas grill, simply lowers the flame until the flare-up stops."
What is the best procedure for cooking food with a traditional sweet BBQ sauce to produce a sauce that is thick and sticky?
"Always use BBQ sauce towards the end of cooking, not at the start. The sugar in BBQ sauce burns easily so your meat could burn before it is done. Apply BBQ sauce on each side about 5 minutes before it's done."
Do you have any burning grilling questions? What would you ask the Longhorn Steakhouse Grill Masters?  Share your grill question(s) below for a chance to win a $40 LongHorn Steakhouse gift card.