This summer, my kids helped build a summer bucket list by adding some of the activities they wanted to do. Many of the items on this list are a repeat from last year's list. And why not? They are amazing, super duper fun activities and places that should be revisited, repeated and relived!
To make sure we check off all the fun activities off the list, we'll follow this handy weekly schedule. I created this weekly plan by combining two pins (found here and here).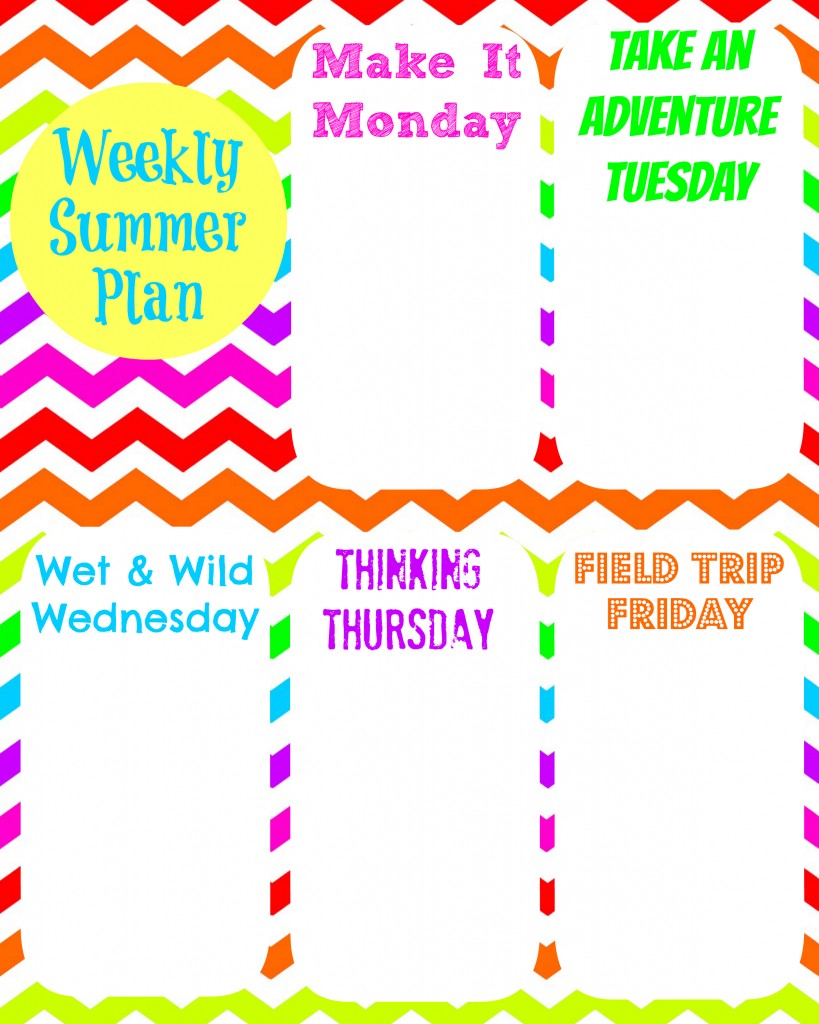 By following this printable 8 x10 plan, I will be able to really commit to completing this list.  I wanted to give myself some flexibility to fit in my workouts and complete household chores around the house while still offering summer fun for my kids. Plus, it's good to have flexibility for rainy days. I also wanted to fit in a day or two for some down time to read books and make all the fun, cool Pinterest kid crafts I pin. The best part is that this printable plan will fit into a 8 x 10 to be used like a wipe board.
 Make It Monday will give my kids and I a chance try out a new recipe or craft.
Take an Adventure Tuesday will offer an opportunity to explore a new to us parks or experience something my family and I have never done before.
Wet & Wild Wednesday is just like it sounds. The kids and I will enjoy some type water play, such as splashing around in the pool or a sprayground.
Thinking Thursday will recharge our brains with a trip to the library or some kitchen science experiments.
Field Trip Friday will be the day we plan for fun family road trips.
But before we set out on any adventures or create a summer craft, the kids will need to do a small amount of schoolwork to keep their brain from turning into mush this summer. Every day my kids will be expected to journal, read and do a little math.
To organize and prepare them, I filled a three-pronged plastic pocket folder with notebook paper for journaling. The folders also contain summer reading logs and math sheets sent from their school. My four year old has handwriting paper to practice his letters, numbers and writing his name.
And now, without any further ado, 75 Ways to Celebrate Summer 2014: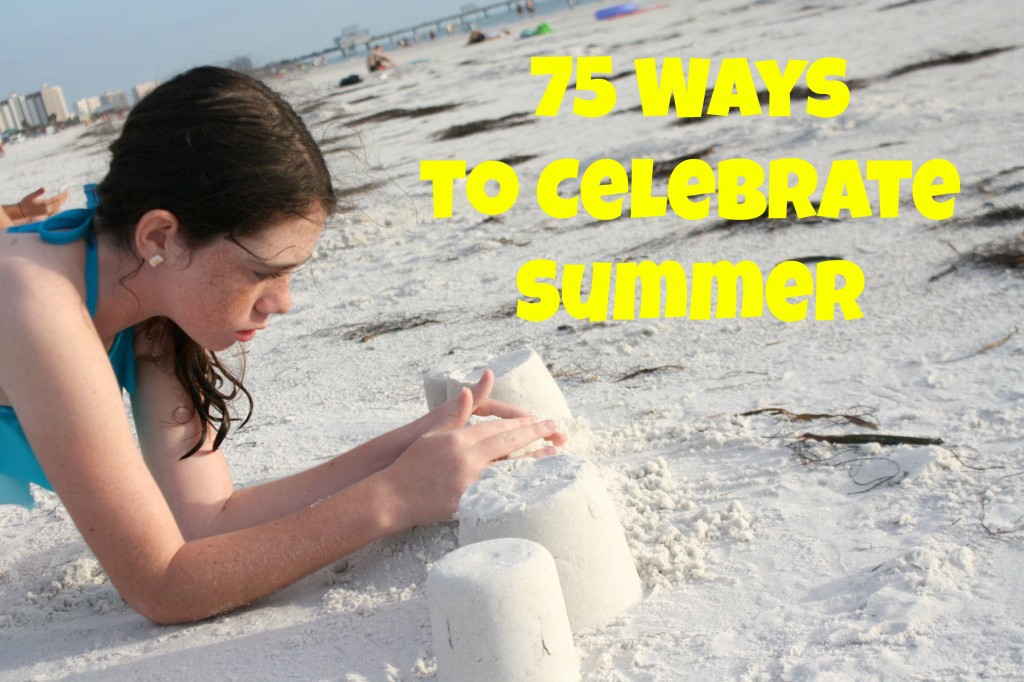 Plan a sunset picnic on the beach.
Build sandcastles and create self-portraits on the beach.
Decorate a frame with seashells.
Fly kites.
Go for family bike rides.
Play basketball.
Play beach volleyball.
Make sidewalk chalk paint.
Play jump rope and hopscotch.
Spend the night at Grandma's house.
Have slumber parties.
Build a blanket fort.
Have an in-home impromptu summer spa party.
Have a tea party.
Play oodles of board games.
Make root beer floats.
Make homemade ice cream.
Make lemonade.
Make a movie.
Catch a drive-in movie, a float-in movie or a local movie on the lawn.
Watch a late night movie in Mommy and Daddy's bed.
See a free (or almost free) summer movie.
Go bowling.
Go ice skating.
See if it's truly hot enough this summer to fry an egg on the on the sidewalk.
Build a pizza box solar oven , roast marshmallows and make s'mores.
Build a rain gauge.
Grow and release tadpoles.
Go fishing
Catch bug and lizards.
Plan a day trip to the Loggerhead Marine Life Center.
Start a garden with sunflowers and tomatoes.
Watch the cloud formations.
Pick berries.
Go geocaching.
Ride a zip line.
Climb trees.
Climb a rock wall or a rope course.
Go horseback riding.
Go Stand Up Paddleboard (SUP) tour and canoeing.
Stop by Brooker Creek Preserve or Weedon Island to play in the hands-on center and enjoy story time.
Participate in the various summer reading programs through our local library and Barnes & Nobles.
Read a children's classic to my kids such as

The Giver

and

The Little Prince

.
Make a Father's Day gift for Daddy.
Make all natural red, white and blue popsicles and smoothies for Independence Day.
Run the Lutz Independence Day 5K.
Watch the Lutz Independence Day Parade and enjoy the fair.
Collect canned goods for a homeless shelter.
Play miniature golf.
Capture fun photos in a photo booth.
Create summer vacation memory jars.
Cherish every summer memory.