Disclosure: This post is made possible by support from the We Can Stop HIV One Conversation at a Time campaign. All opinions are my own.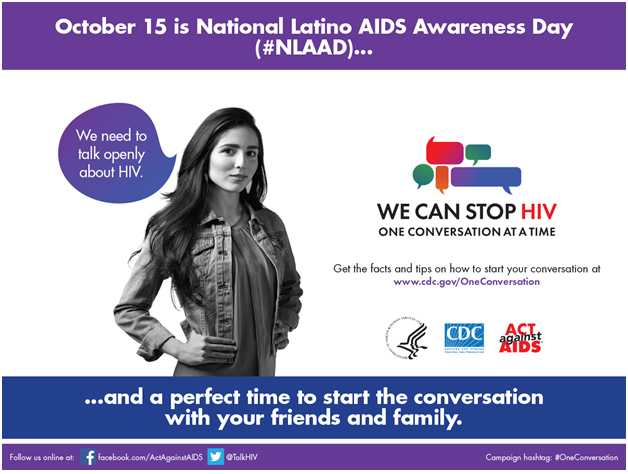 To launch this campaign and begin a conversation about HIV, several bloggers and I listened to the personal accounts of two women affected by HIV.
Maria contracted HIV from her boyfriend at sixteen years old and felt her life was over.  Through advocacy and education, she now leads the conversation about HIV daily by sharing HIV facts and prevention. Maria openly shares her story as a contributor on two blogs: The Well Project and The Body.
At eight years, L'Orangelis discovered she had HIV when she inquired about the medications she took daily. From that she learned, she learned she was born with HIV.
By sharing their stories, both these women strive to remove the stigma from HIV, raise awareness and prevention. The through the We Can Stop HIV One Conversation at a Time initiative, a call to action has been set forth for the general Hispanic community to talk about HIV and AIDS to increase HIV and AIDS awareness and decrease HIV-associated stigma and shame.
Studies show that talking about HIV/AIDS helps people to know what to do to prevent and treat HIV. By talking about HIV prevention, HIV testing and effective condom use to lower new HIV infection, we ultimately  saves lives and protect health.
For many in our community, family is our primary social unit and support system making families the first line of defense in preventing HIV infections. In a safe and supportive environment, a parent engaging in open and honest talks with their children sharing life-saving information about HIV is the best prevention.
Regardless of age, gender, sexual orientation or marital status, anyone can be affected by HIV. For that reason, as community leaders and parents, we must talk openly about it to protect our community. By learning the facts about HIV and talking about ways to protect ourselves and our loved ones, we can help increase HIV awareness, decrease stigma and shame that are too often associated with HIV, as well as play a part in stopping HIV, particularly in the Hispanic/Latino community.
Taking the One Conversation one step further, the CDC recently launched a new national HIV and AIDS awareness campaign, We Can Stop HIV One Conversation at a Time/Podemos Detener el VIH Una Conversación a la Vez. The campaign highlights the importance of each and every conversation to reduce HIV and AIDS among Hispanics and Latinos while encouraging Hispanics/Latinos to talk openly about HIV and AIDS with their families, friends, partners and communities.
As reported by the CDC, more than 1.1 million people are living with HIV in the United States and about 50,000 people become infected each year. However, Hispanics are disproportionately affected by HIV.
Although representing 16% of the total U.S. population, Latinos account for 19% of the 1.1 million people living with HIV in the United States.
The Hispanic population represents 21% of new HIV infections each year.
The rate of new HIV infections for Latino males was 2.9 times that for white males, and the rate of new infections for Latinas was 4.2 times that for white females.
An estimated 1 in 36 Latino men and 1 in 106 Latina women will be diagnosed with HIV at some point in their lifetime.
Young Hispanic/Latinos (ages 13-24) made up 20% of all new HIV infections among youth in 2010.
More than 96,200 Latinos with an AIDS diagnosis have died, including 2,370 in 2010.
Each of us can make a difference by talking openly about sex, sexuality, and HIV/AIDS with our families, partners, and friends. Commit to action by starting a conversation about HIV.
"We all have a role to play. 
We can stop HIV one conversation at a time.
Together, all of our conversations can help protect the health of our community and reduce the spread of HIV."
To learn how We Can Stop HIV One Conversation at a Time follow on @TalkHIV  on Twitter #OneConversation #UnaConversacion and Facebook or visit www.cdc.gov/oneconversation.