Like many runners, I have a bucket list of races and marathons that someday I would love to run.  At the top of that list are New York City, Chicago and London and after four years of lottery drawings, my NYC Marathon dream will finally come true this year.
When all my friends and running partners applied to the Chicago, I shied away from another lottery and the waiting process.  Besides did I really want to run two marathons less than 3 weeks apart?
To everyone's surprise, all of my friends who applied were selected to run! What are the odds of that?!  (Note to self: Buy a lottery ticket.) When I saw my Facebook feed lighting up with congratulatory messages from the Bank of America Chicago Marathon, I had a pang of remorse for not applying.
A few days later, my SIL shared a plea from the Danny Did Foundation requesting runners to select its organization for a run for charity option for entry in the Chicago Marathon.  For me, it was a sign. The Danny Did Foundation helped my family and now I could return the favor by helping raise money for this incredible organization.
Upon their approval to run for charity, I had five months to raise $1500 or pay the difference. The months leading up to the marathon, I hosted numerous fundraising events, however, as the final week approached, I still had a balance of $600 to fulfill. I felt so deflated, but as fate would have it, I finally hit my goal Thursday evening. The stress of training and fundraising really took a toll of me and honestly, I'm not sure I will run for charity again, but that's a post for another day.
My friend, Daffodil, and I took the earliest flight from Tampa to Chicago, along with a few other runner friends. When we arrived in Chicago with the famous Chicago Theater and cooler air welcoming us to the Windy City! I felt like Marlo Thomas in the opening cerdits of That Girl riding "The L train" and walking through the tall buildings.
Our friend, Shannon, arranged for us to stay at the Columbia Plaza Residential Vacation Rentals on Upper East Wacker St. (The Upper and Lower streets were a strange sight for this Florida girl!) Located adjacent to the Hyatt, our one bedroom apartment sat close to the start and finish line and we were only a few blocks from The Loop. It was PERFECT! Plus, I loved having a full size kitchen and fridge, which is so important for runners' and their supplies!
From the people to the sights to the food, Chicago is truly an incredible city.  It is a foodie paradise. Although I ate very plain as to not stray from my normal marathon meals, however, I did dabble in many helpings of deep dish pizza for investigative purposes.  I'm planning a return visit to the Windy City just for the food!
Daffodil and I visited the expansive expo late Friday afternoon to pick up our bibs and to purchase a few commemorative t-shirts. I bought three because I loved them all! The purple t-shirt made me think of daughter, Emmalynn and my niece, Meghan, who both love the color purple. Coincidentally, it's also the color for epilepsy.
That night, we enjoyed our first taste of deep dish pizza at the famous Giordano's.
On Saturday, we wanted to keep our walking to a minimum after walking all over Chicago the day before hunting down deep dish pizza. That afternoon, we visited the Navy Pier where I sampled a local wheat ale.
For my pre-race meal on Saturday night, Daffodil and I grabbed ready-made dinners to go from Mariano's, which reminded me of Whole Foods Market.
Both Daffodil and I had trouble sleeping. I'm not sure if it was too much beer, travel nerves or anxiety for the marathon, but I needed more sleep the morning of the marathon. Although we were in different corrals, Daffodil and I had the same start time: 8:00 a.m.
We walked several blocks along Millennium Park to find our designated corrals. Once we found our entrances, we hit a wall of people. Thinking I would never make it through the crowd, I started to panic. "I need to check my bag! I can't run with this!" I screamed in my head, like a Seinfeld episode with Elaine stuck on a crowded subway train.
With about 20 minutes to spare, I made my way through the crowd and ran towards our friends' designated photo spot. No one was there! I eventually found Daffodil, but with a quick "Hello! Good-bye!  Good luck!" and we bolted in opposite directions to different designated baggage claims.
My baggage claim was located across the street and down a ways. While it made no sense and I felt lost, I stumbled upon a line of people. "Is this baggage claim?" I asked in a panic voice. "No, this is the line for the port-o-lets."
I simply had no time to even think about that line at all! A potty break would have to wait! I eventually found my baggage claim drop-off and with ten minutes to spare, I made my way to my corral and took a very deep breath to calm my nerves.
In Run DMT fashion, I took selfies of me at the start. Although the temperature held around 50 degrees, I was so grateful for my sweatshirt to keep me warm while I waited for the gun to fire.   My wave didn't actually cross the start line until 8:15.

While we creeped through the corral up to the start line, other runners were already pulling off their layers to discard, but I held onto my extra layers a little longer. (I eventually tossed my sweatshirt around the first mile.) Among the piled of pullovers and sweatshirts, I found some unopened Cliff Shots. SCORE! And I stored them in my pant pocket.
Running the city was simply incredible!  Words cannot describe the emotion I felt as rows and rows of spectators at least four people deep cheered for us as we ran by. The thick crowds of people never stopped. For 26.2 miles, I had constant smiling strangers cheering for me. I struck me odd when they shouted "Go Danny!" Until I realized they were shouting "Go Team Danny Did!"
I loved seeing other runners reconnect with loved ones along the course and I longed for a hug from someone I knew. Huge portraits of over-sized heads on sticks waved like the "Great and Powerful Wizard of Oz" above the crowds to let runners know who they rooted for and to help their loved ones find them among the crowd. At random points along the way, I would see the same spectators and it was like seeing an old friend. Among the crowds, I found my companion. (It's a Doctor Who thing.)
Little did I know, I had little virtual cheerleaders back home cheering for me along the way: my niece, Meghan…
…and my family.
As to be expected, the signs kept our spirits up. "Smile if you're not wearing underwear." "All toe nails go to heaven." "Touch here for power."  "Worse parade ever!" What I never anticipated seeing were spectators offering food to runners. Not just candy, but the spectators offered pretzels, P-B & J sandwich bites, Twizzlers and even beer.
As promised, it was a fast course, but NOT flat at all for this Florida girl. Lots of bridges and weird terrain but so many amazing sights and I thoroughly enjoyed my tour of the city on foot. Around mile 9 Daffodil passed me. She had waited for a bathroom along the course. Another quick hug with a "Hello-Good-bye" and she flew on by me.
As I hit the 13 mile marker around 2:30, I searched for Team Danny Did when my mom called me. "What are you doing?"
"Can't talk. I'm running." I replied as my phone died.
I desperately tried to look for Team Danny Did but I missed them.  In a crowd of over 40,000 runners, twice as many spectators and no phone to communicate with anyone, I felt very alone in the Windy City.
At mile 16, I had a mental breakdown in a port-o-let. With ten miles still to run, I hit my wall. The "hills" were killing my legs and my PF acted up. The demons in my head had control of me. "Why am I doing this?" "What am I trying to prove?"
I shook it off and got my head back into the course with a ugly cry on the verge. I'm doing this for Team Danny Did and Meghan just like my shirt says. I'm here for charity. It's noble. I'm not proving anything. I'm doing this for the greater good.
As people continued to cheer "Go Danny Did" it only made me want to cry more. I never ran for charity and to hear the "thank you's" and cheers just moved me to tears. In a sea of ALS, Livestrong, Team TNT and other charities, it was heart-warming to hear people thankful for #TeamDannyDid.
Through LBGT community and full on drag queens, Chinatown and the Hispanic district, I found my strength in the people who cheered for us. Although I felt like I would collapse, I carried on until I finished. With less than a half mile to go, I stumbled on the final bridge. A kind race volunteer put her hand on my shoulder and said, "You got this! Come on! Keep smiling!" and she paced me for about 20 feet. Unlike so many other races, I didn't have a sprint in me. I just kept steady away until I reached the finish line.
The ugly cry I held back for miles surfaced when I crossed the finish line: 5:41:01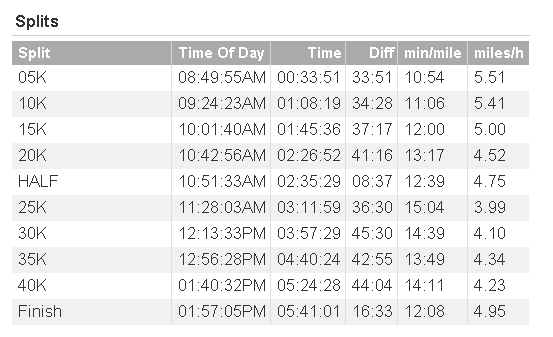 With my medal and my space blanket, I hobbled over to baggage claim, but I still had another mile to walk to meet up with my friends in the reunion area. In a sea of 45,000 runners and twice as many spectators and a dead cell phone, I doubted I would ever find my friends. Somehow, I had the smarts to wait under "S" for Striders and asked to borrow a stranger's cell phone to call my husband to text our friends.
A few minutes later, Mike, Chrissy's husband, greeted me with a big hug. I think Mike has greeted and hugged me at more races than my own husband.  While we posed for photos, Chrissy proudly shared the news of her PR and I congratulated her on such an outstanding achievement!
Once the marathon post-party began wrapping up, I realized I would never make the Team Danny Did victory party. As Daffodil and I slowly ambled back to our apartment, we shared race stories and cries while we climbed the stairs to upper East Wacker. Who puts stairs in streets?
For our celebratory dinner, we ordered delivery deep dish pizza from Lou Manalit's, another local favorite, and washed it down with Prosecco.
While we waited for the pizza to arrive, I needed to ice my poor plantar fasciitis heels.  Ice skillets are the latest in plantar fasciitis therapy.
With the good (the amazing Windy City, the food and the people), the bad (losing my friends, missing Team Danny Did and the 27th mile) and the ugly (my crying), the Chicago Marathon was a wonderful experience! Whereas I would once recommend Disney Marathon as the best choice for a first marathon, I will now always hands-down recommend the Chicago Marathon for a first marathon.
Simply put, I have never seen a marathon at that magnitude. To have 26.2 miles of smiling spectators thrilled to have a marathon running through their streets is something I will never forget and always long to relive and capture.  Going forward, every race (hopefully not NYC marathon) will pale in comparison. My marathon expectations have been raised and honestly, I dread running Space Coast Marathon again for that reason.
Someday, I will run the Chicago Marathon again, probably not for charity but definitely for fun; When I watch this video by Meghan, I can't help but cry all over again and consider running for #TeamDannyDid again.
Regardless the path I chose to run my next marathon, I hope to see my loved ones cheering for me at random points along the course.