Knowing that I am a mom of a Monster Truck obsessed four year old, Feld Entertainment invited my family and me to attend the January 17 Monster Jam at Raymond James Stadium in Tampa.
For a boy who loves big trucks, his little dream came true in the Party in the Pits. Seeing real life, overgrown version of his little Monster Mutt Truck sent my Little Lion Man in overdrive.
Then given the chance to slide down a Monster Mutt inflatable slide made his day even better until he begged and suckered Mommy into buying some Monster Truck Merchandise.
Between the Party in the Pits and the late show start at the stadium, it made for a long day for my crew.
Despite my Little Lion Man's Monster Truck obsession, my four year old lost interest after the first half. Having never experienced a Monster Jam event before in my life, I learned some basic to survival tips to save a few pennies and avoid the long lines.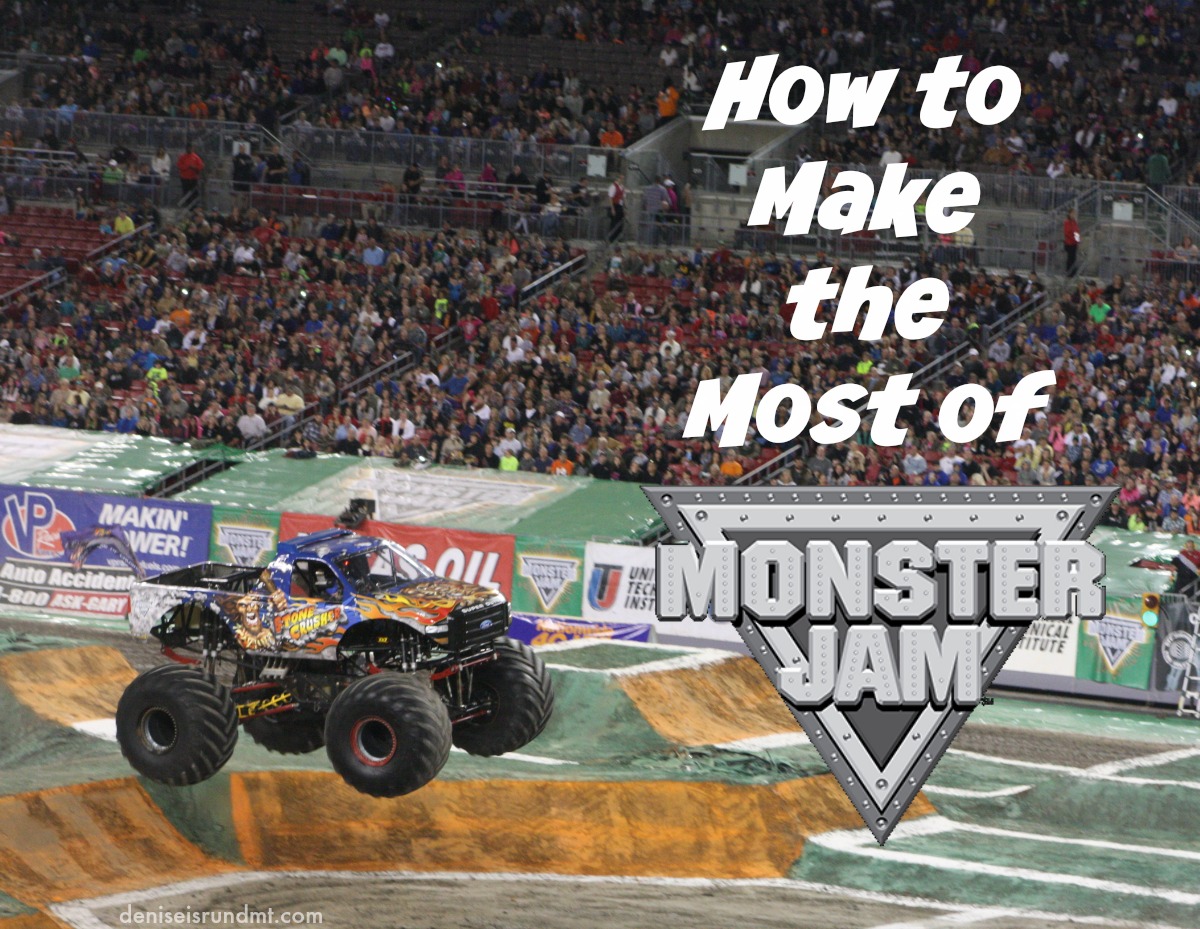 How to Make the Most of Monster Jam
Arrive early.
If you decide to pick up your tickets at Will Call, arrive at the earliest time because parking will be a nightmare. Gates open at 5:00 and the opening ceremony starts at 6:30.
Tailgate.
Opening ceremony starts at 6:30 which is dinner time for most families. If you arrive at 5:00 to pick up your tickets early, then picnic in the parking lot to avoid spending a small fortune for the food inside the stadium. Surprisingly, tons of Monster Jam fans tailgate in the parking lot before the opening ceremony. If that's not your jam, then definitely grab a bite at a nearby restaurant before Monster Jam.
Bring ear plugs.
Ear plugs are a must for this! If you own noise canceling headphones, those will work too. With sixteen trucks with 1,500 horsepower engines competing side by side, the roars of the Monster Trucks can be a bit much for little sensitive ears. For the cheapest way to survive the overwhelming roars and reduce the noise by 33 decibels, pick up a pack of ten foam earplugs for under $5 at a your local drug store.
Bring Your Own Monster Truck Hot Wheels Souvenir.
Before you attend Monster Jam, visit your neighborhood toy store to purchase a reasonably priced Monster Truck Hot Wheels. At the event, surprise your child with a brand new Monster Truck Hot Wheels, which your child will love as much as the merchandise made available at the event. If you really want to be a Monster Truck Rock Star, throw some glow sticks in with the souvenirs. Clear here to view a complete list of Monster Truck Hot Wheels.
Print out the Press Release.
Rather than buying a Program at Monster Jam, print out the Monster Jam Press Release made available on the Monster Jam site. The Monster Jam Press Release offers a brief history behind the event, lists the competitors, truck design and other interesting facts about the sport. Print it out before you attend and read through it with your Monster Truck mob to make the event even more meaningful and educational.
Pass on the Party in the Pits
Honestly, we found the whole party to be less than festive. As much as my Little Lion Man loved seeing the trucks and their drivers up-close and personal, all the fun extras inside the Party in the Pits were an additional cost on top of the Party in the Pit passes.  My advice: Pass on the Party in the Pits and meet the Monster Trucks on display at location near you. (See details below.)
Thursday, February 5 delivers a chance for fans to touch and take photos with the enormous Monster Trucks and meet the drivers BEFORE these beasts roar in to Raymond James Stadium on Saturday, February 7
For one day only, four of the show's biggest stars, the giant monster trucks from Monster Jam, will be on display in Tampa this week!
Best part, IT'S FREE!
*Trucks listed above are subject to change.
EL TORO LOCO
2 – 6 p.m.
Metro PCS
21631 Village Lakes Shopping Center Drive
Land O Lakes, FL  34639
SPIKE
3 – 7 p.m.
Wesley Chapel Honda
27750 Wesley Chapel Boulevard
Wesley Chapel, FL  33544
MONSTER MUTT DALMATION
2 – 6 p.m.
Circle K
3400 5th Avenue N.
St. Petersburg, FL  33713
GUNSLINGER
6 – 10 p.m.
Round Up
10051 W. Hillsborough Avenue
Tampa, FL  33615
Monster Jam returns to Raymond James Stadium THIS SATURDAY, February 7 at 7 p.m.
The second Monster Jam is an entirely different line-up of race teams and drivers, competing on an entirely new race track, than the show presented on January 17th. The February 7th event will feature a different GRAVE DIGGER team driven by the sport's icon Dennis Anderson, SON UVA DIGGER driven by Ryan Anderson, HOT WHEELS, ROTTWEILER, CAPTAIN'S CURSE, NEA, GUNSLINGER, ICE CREAM MAN, the female-driven MONSTER MUTT DALMATION, and more yet-to-be announced motorsports competitors.
Don't miss the second event which will likely to sell out! To purchase tickets or learn more information on Monster Jam, visit www.MonsterJam.com.
Tickets are still on sale and will be available through event day on February 7th. Tickets start at $15 and are on sale now at all Ticketmaster outlets, the Raymond James Stadium Box Office, charge by phone at 800-745-3000, or online at www.ticketmaster.com. For more information visit www.monsterjam.com.
For more Monster Truck Monster Jam and to stay up to speed with your favorite Monster Jam Monster Trucks, follow Monster Jam on Facebook, Twitter and Instagram.
View more Monster Jam madness at www.youtube.com/MonsterJamLive.
Disclosure: My family and I received Monster Jam tickets from Feld Entertainment for the purpose of a review. All Monster Truck love is my son's.