Disclosure: My family and I received tickets to Disney On Ice: Frozen for the purpose of this review. The opinions shared are my own.
Like most families, my kids and I are HUGE Frozen fans. In fact, we are the family that you often hear in traffic singing the Frozen soundtrack from the top of our lungs.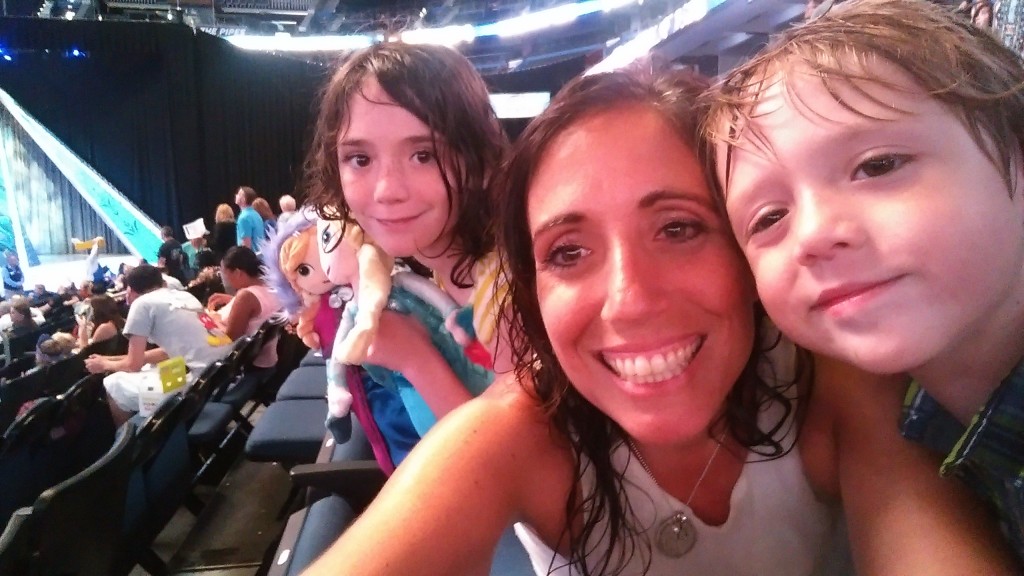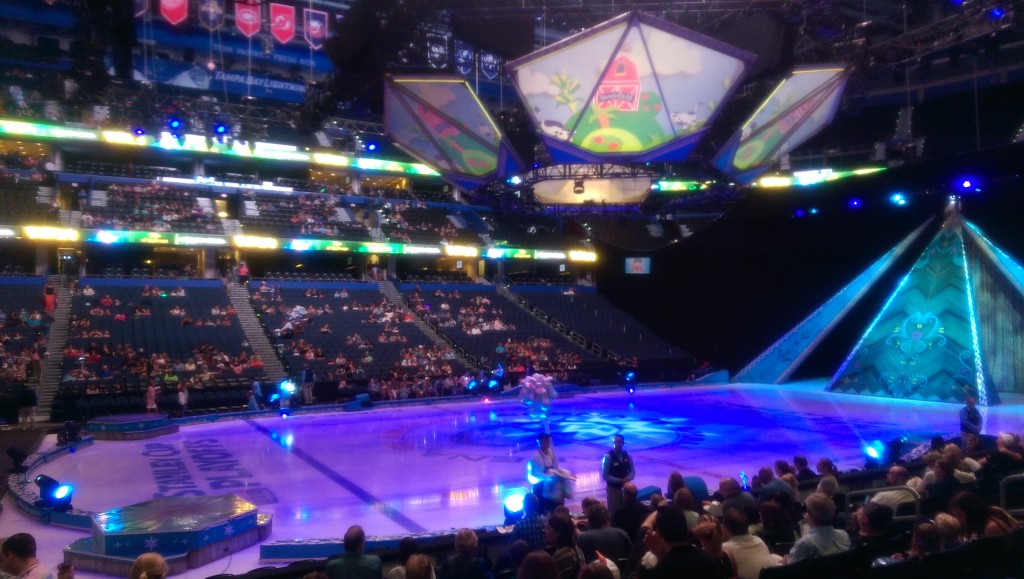 However after Thursday evening's opening performance of Disney On Ice: Frozen, I believe we may not be alone. For the first time in my Disney on Ice mommy history, I witnessed the largest sing-a-long ever at Amalie Arena as kids big and small belted out Elsa's most famous bone-chilling solo number, "Let It Go!"
The Disney on Ice: Frozen show begins with a warm welcome from Mickey Mouse, Minnie Mouse and several other favorite Disney characters. But the real stars of this show are the cast of Frozen and the show quickly moves along to unfold the Frozen fairy tale.
It's a very abridged version as the characters literally and figuratively skate through the plot, much to my nine year old daughter's disapproval. "They're skipping parts and lines!"
Many Disney Princess purists may be disappointed with the shortened story, but for the purpose of a story told through ice skating, I think the length was perfect. The ice skating choreography also offers a nice glimpse as to how Frozen on Broadway might look.
The Frozen adventure on ice follows the same plot as the beloved animated film and of course, all your favorite Frozen songs are featured in the performance. The story opens with "Do You Want to Build a Snowman?" (omitting the loss of their parents – Thank goodness!) and quickly leads into "For the First Time in Forever" for Elsa's Coronation.
All the players are present: the conspiring Hans, Sven and the lovable Kristoff, who leaps and flips over the ice like a Swedish Owen Wilson. But when Olaf slides into the scene, the goofy snowman steals the show like a roly-poly rock star for the all adoring Frozen fans. The crowd went wild for Olaf and his extended version of summer will warm your hearts. Even Kristoff's beloved Rock Troll family makes an appearance and shares their "Fixer Upper" knowledge.
The show closes with "Let It Go (reprise)" with Elsa and Anna skating side by side and of course, another sing-a-long with the audience.
While Frozen lends itself to an ice skating performance, I was pleasantly surprised by this icy version of the film. But younger fans (and their parents') will be pleased by the length of the show.
Don't miss Disney on Ice: Frozen in Tampa before it slips away!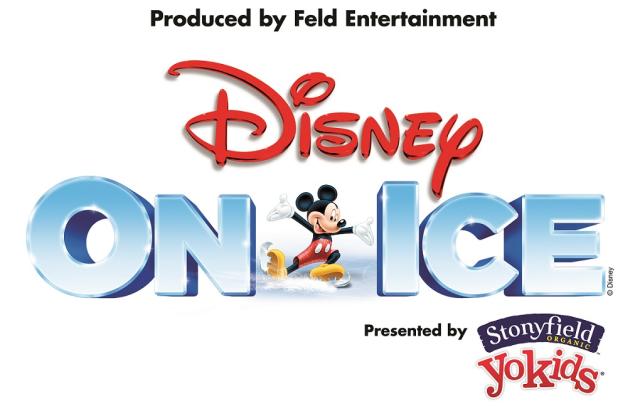 And can I say something crazy? (I love crazy.)
But it's just such a pleasant surprise to have a HEALTHY sponsor like Stonyfield Organic Yogurt sponsoring this Disney on Ice tour!
In fact, you can SAVE 50% OFF SIX TICKETS with a code hidden inside Stonyfield YoKids Squeezers.
Look for specially marked Stonyfield Yo Kids Squeezers at your local supermarket.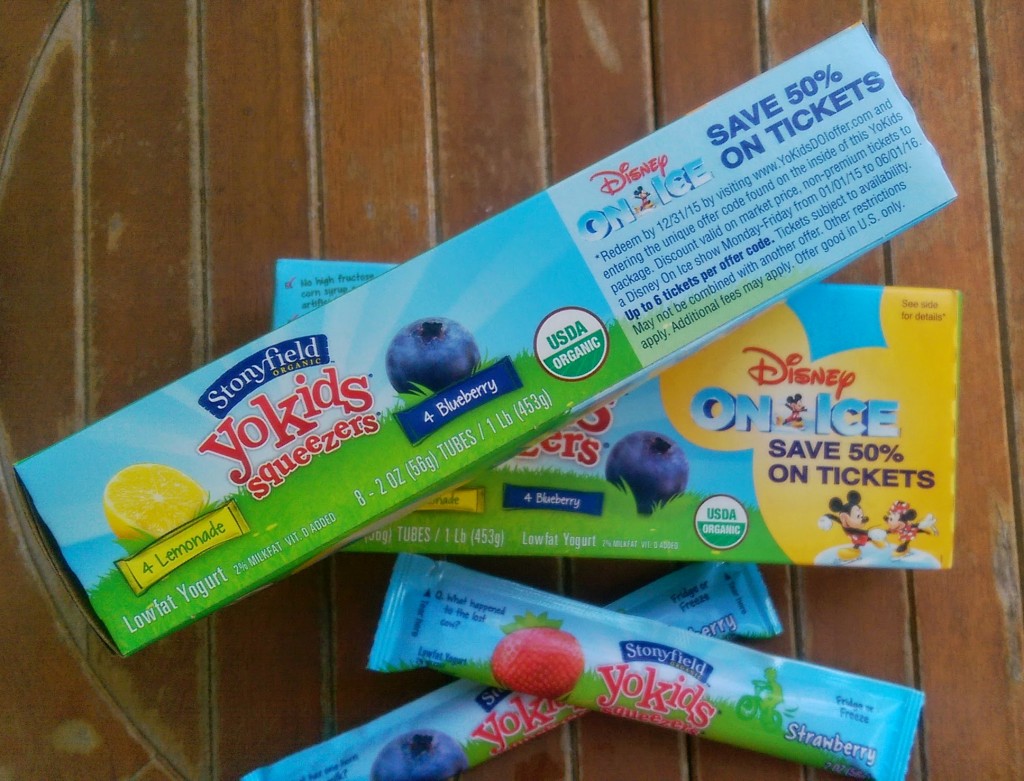 Visit www.amaliearena.com to purchase tickets and catch Disney on Ice: Frozen at Amalie Arena at the following performances:
Friday, May 15 at 7:00 p.m.
Saturday, May 16 at 11:00 a.m., 3:00 p.m., 7:00 p.m.
Sunday, May 17 at 1:00 p.m., 5:00 p.m.
For a complete list of tour dates, visit Disney On Ice. Stay current on the latest developments via Facebook, YouTube and Twitter @DisneyOnIce and @NicoleFeld (the show's producer).