Disclaimer: I received a party planning kit as part of Natio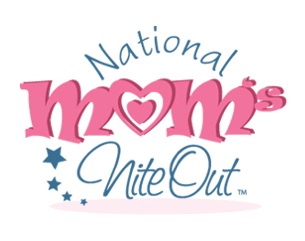 nal Mom's Nite for the purpose of hosting a #NMNO15 event. I received no compensation. All opinions are my own.
This year, I will be celebrating my fourteenth year as a mom. In fourteen years, I have come to deeply understand the importance of finding time for myself and letting my hair down with other moms. A night out with other moms gives us a chance to unwind. In a job that is 24-7, it's nice to take a moment to just breathe without a small child clinging to your waist and stifling you.
Back in my days as a mom's group organizer, Moms on the Go hosted regular Mom's Night Out events (NMO). In fact, during that time, I learned about an evening in May set aside to connect moms through live meetups and tweetups around the nation in simultaneous mom's night out events, aptly named National Mom's Nite Out.
Having planned multiple monthly MNO events for my mommy friends, it only seemed natural to join a nationwide celebration. From that very first event back in 2010, I was hooked and I've been hosting a local annual  National Mom's Nite Out ever since then.
This year for #NMNO15, I teamed up with my mommy blogger friend, Tracy of Having Fun Saving. We wanted to offer something different and fun while supporting local and introducing a new point of interest in our area, the Land O' Lakes Winery.

Although the winery doesn't look like much from the outside, looks are certainly deceiving. Inside this modest building sandwiched between NAPA and Advanced Auto Parts, you will find a warm, welcoming wine bar to sip on some very unique boutique wines from all over the world hand-picked the owners and operators.
This humble establishment offers such a unique experience from sipping on some exceptional wines to making your wine. I fell in love with a Cab/Merlot by Franklin Tate Estate, a velvety full-bodied cherry blend.
As the moms arrived, the Land O'Lakes winery offered them each a glass of wine on the house. Of course, we sampled each other's wines and raved over them all. Tracy and I offered snacks to cleanse the palette between sips. The Land O'Lakes Winery was also kind enough to extend their happy hour special (2 for 1 wines) for the duration of our #NMNO15 meetup.
Also during out NMNO15 event, Jason (the onsite wine-maker) gave us a small tour about the wine making experience. Much like following a favored time-tested recipe, wine-making is foolproof with his assistance. Upon selecting a dry or wet grape kit, Jason then walks guests through a five-month long process crafting the perfect wine. Each kit produces approximately 30 bottles of wine. In fact, now is the perfect time to make your one-of-a-kind wine gifts for the holidays!
As a parting gifts, each mom left with a #NMNO15 swag bag provided by Land O Lakes Winery and National Mom's Nite Out which included a wine glass, Bicycle Cocktail Party playing cards, MyPrintly Make Your Own Cards, Land O' Lakes Winery Koozie and Entenmann's Little Bites.
Plus, TWO lucky moms left with a bottle of wine as part of our #NMNO15 raffle.
Our mommy friends had such a great time snacking and sipping! Letting our hair down and raising a glass was the perfect way to toast Motherhood! A big THANK YOU to the Land O' Lakes Winery for hosting us!
Visit the Land O Lakes Winery daily at 3901 Land O Lakes Blvd. (U.S. Hwy 41) for its outstanding selections of wines and to learn more about how to make your own wine. Happy Hour at the Wine Bar is open Mon – Fri from 4:00 to 7:00, which offers 2 for 1 on glasses of wine and bottles of beer including craft beer selections.
Follow Land O'Lakes Winery on Facebook to keep up-to-date on the latest news and specials, such as live music and its Grand Opening Celebration set for Memorial Day Weekend.
Now it's your time to celebrate and toast motherhood! Enter to win a NMNO15 Prize Park to create your MNO event!
To enter, simply follow the Rafflecopter prompts below.
This prize pack includes:
National Mom's Nite Out Shaker
Daily's Cocktail Frozen Peach Daiquiri
Wine Glass
Land O' Lakes Winery Koozie
Entenmann's Little Bites
MyPrintly Make Your Own Cards
Popcorn
Bicycle Cocktail Party playing cards
Pepperidge Farm Lexington Milk Chocolate Toffee Almond Cookies