As I may have mentioned before, I'm a "Beautiful" fan girl. So, when the Straz Center offered me a second chance to see the show, I jumped on it. You may have felt the earth move under your feet from my excitement.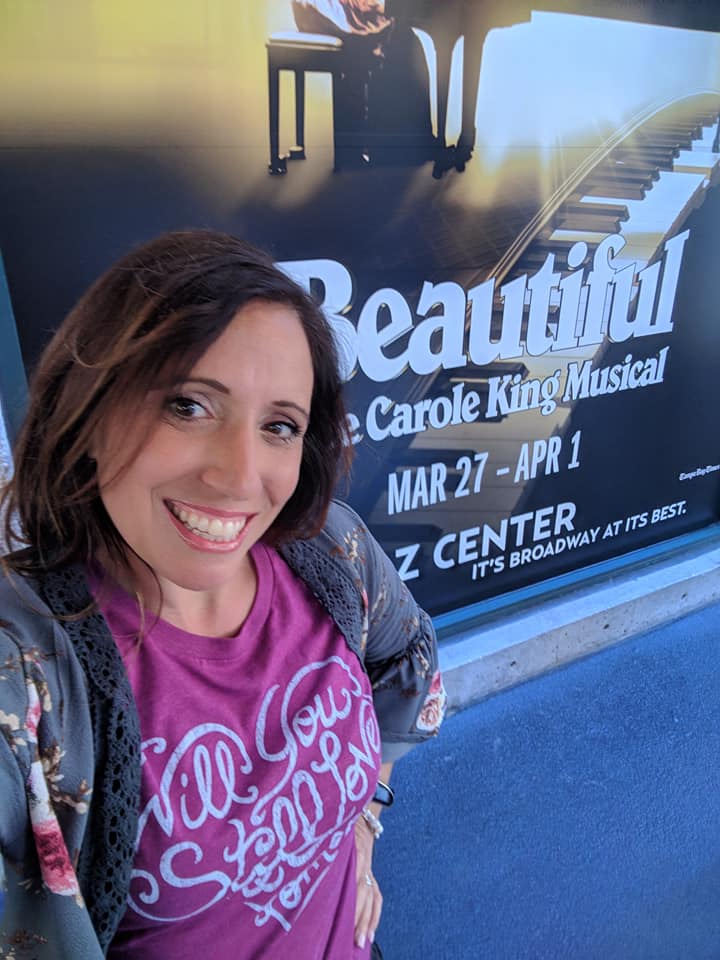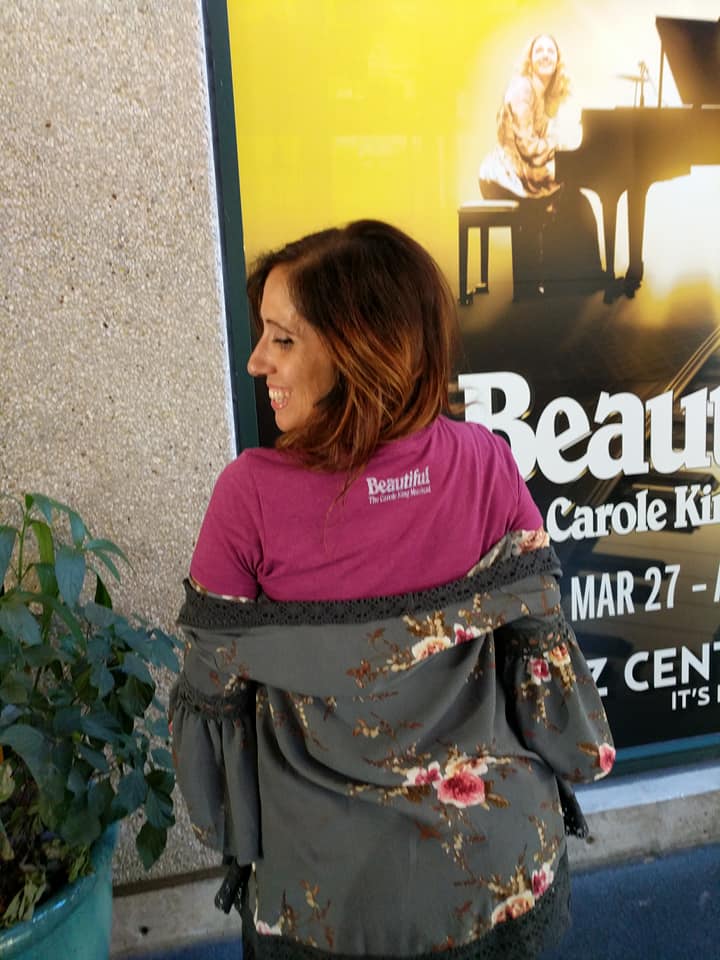 As biographical musicals goes, Beautiful – The Carole King Musical is my favorite hands down. Tapestry was my coming of age anthem as a woman in the early 90s. Therefore, learning the inspiration behind all her incredible Billboard hits and seeing the songs woven into the plot of a musical is simply captivating. And of course, the fluidity of the set changes and the talented cast that brings the biographical musical to life are truly astounding.  
Sarah Bockel nails Carole King's thick Brooklyn accent as well as King's trademark vocals. The entire cast kills it but as the Weil-Mann songwriters, Sarah Goeke and Jacob Heimer slay the audience with their comedic timing and outstanding vocals. Beautiful – The Carole King Musical is a must-see!
But like I've said many times before, Carole King's Tapestry was my womanhood warcry as a young college woman. As Carole says in Beauitful, it's her story, her heartache, her vulnerability – emotions and feelings so many women can relate to.
Seeing Beautiful – The Carole King Musical for a second time at the Straz allowed me to recognize some important life lessons I missed the first time in part to my starry-eyed wonder of the fantastic score and choreography.
Beautiful Lessons Learned in The Carole King Musical
Dream big.
A young Carole (Klein) King dreamed of writing hit songs. Despite her mother insisting on Carole becoming a teacher, Carole chose to follow her own path. With a little persistence and a whole lot of talent, Carole made her dream a reality.
Set goals and crush them.
Carole and Gerry had big dreams to hit number one on the Billboard charts. Through hard work, determination and their combined talents helped them to achieve their goals. As they set goals to write more number one hits, they were able to move out of Carole's childhood home into an apartment and then eventually into a house in the suburbs of New Jersey. Together as a team, Carole and Gerry continued to set new goals and crush them.
Stay competitive.
Some competition is good for sparking drive and determination. As Carole and Gerry wrote hit song after hit song, the dynamic songwriting duo became their own best competition. However, whether they competed against Cynthia and Barry for the next greatest hit or themselves, the competition gave Carole and Gerry the edge they needed to stay in the game.
Quit your day job.
Why stay in a dead end job being miserable? Live the life you were meant to live. Find the job that feeds your passion to live a fulfilled life.
Don't be a doormat.
It took Carole a long time to realize her marriage and songwriting partnership was crumbling and coming to an end. Through Gerry's affairs and manic episodes, their marriage had to hit bottom before Carole could bounce back and realize her true potential. Once she decided to not play second to Gerry's extracurricular activities, Carole's life changed for the better.
Know who your friends are.
"People can be so cold. They'll hurt you and desert you. They'll take your soul if you let them, but don't you let them." Real friends are there for you in good times and bad. True friends will celebrate your successes and offer a shoulder when times are tough. Carole had a wonderful support system when her marriage ended; Don, Cynthia and Barry were there for her when she needed them most. Everyone deserves friends like that.
Get up every morning with a smile on your face.
How you take on the day determines the mood for the remainder of the day. If you start your day miserable, you can guarantee your day will be a trainwreck and end miserably. However, if you wake up in a positive mind set, you will exude positive energy; positive vibes will return your way and you will experience a much more pleasant day. It's like they always say, "Smiles are contagious. Spread happiness."
You're beautiful.
In case no one has told you today, it needs to be said. You're beautiful inside and out. Women spend so much time loathing their bodies and beating themselves up; we forget to embrace our best assets. Life is full of challenges. Why be your own worst critic? Be your own cheerleader.
Feel Beautiful – The Carole King Musical now until Sunday, April 1 at the Straz.
Visit www.strazcenter.orgfor showtimes and tickets.