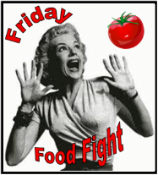 That's right.  You heard me. Chicken and Waffles.  This strange sweet and savory pair has been getting a lot of attention on the television lately despite being served at Stumps Supper Club with a side of mashed potatoes for years.
And as of late, this ambiguously strange duo has been getting a lot of attention on Twitter too, which prompted a drool-inducing idea of driving around the Tampa Bay area tasting each one and calling it my "Chicken and Waffle Tampa Tour", but then my butt cheeks would look like chicken and waffles.  Not to mention, my car and my cholesterol probably couldn't take it either.
So, then Kirsten of Gone Bananas couldn't even stomach the thought of eating all that greasy, fried food even when I suggested splitting a meal had the BRILLIANT suggestion of making our own healthy version.  How hard could it be, right? Abso-freaking-lutely!
First, we had to find an unfried chicken recipe, but everything required at least a stick of butter and that simply could not do!  Therefore, we concocted our own healthy baked chicken tenders using flour, an egg wash in place of butter and crushed Corn Flakes.  We even demonstrated our mad chicken strip skills in a few how-to vlogs for your viewing pleasure.
Next we made the accompaniment: the waffles.  Sorry.  No how-to vlogs for our first-time-ever-from-scratch waffles, but we were quite impressed with ourselves for achieving such wonderful waffles!
Seriously, this dish was easy enough to replicate in a healthy way.  But more than that, it was tasty.  I was truly surprised by how well waffles drenched in syrup complimented the savory chicken strips and how nicely the crunchy Corn Flake breading soaked up some of the syrup too.
But did this dish pass the Iron Chef Allan taste test?  Would our kids even touch it?
Y'all, this unfried, "healthy" Southern combo classic was a hit with the whole family.  And my cholesterol and my thighs were thankful too.
Run DMT's Unfried Chicken Fingers
Ingredients
1 lb. chicken tenders
2 cups crushed Corn Flakes
2 cups all-purpose flour
1 tsp salt
1 tsp black ground pepper
¼ tsp cayenne pepper
1 tsp garlic powder
1 tsp onion powder
2 eggs
Directions
Preheat oven to 375 degrees.
In a large bowl, combine flour, salt, pepper, garlic, cayenne pepper, garlic and onion powder.  Rinse chicken tenders in a colander and then drench the wet tenders in the flour mixture.
Whisk eggs in a bowl.  Then, drench the flour battered chicken tenders in the egg wash.  Next, in another large bowl, coat the egg washed chicken tenders in the crushed Corn Flakes.  Lay about an inch apart on a cookie sheet greased with cooking spray.  Bake for 20 minutes.
Better for Your Waistline Waffles
Ingredients
1 ¾ white wheat flour
1 Tbsp baking powder
1 Tbsp sugar
½ tsp salt
½ tsp baking soda
2 eggs
1 stick melted butter or 1/2 cup Canola oil
1 cup milk
½ cup reduced fat sour cream
Maple syrup
Directions
Preheat waffle iron to a medium heat.
In a large bowl, whisk dry ingredients.  Then mix all wet ingredients in another bowl.  Make a well in the center of the dry ingredients and pour in wet ingredients.  Combine ingredients with a few swift strokes to avoid breaking down the gluten.   Batter should be lumpy.
Using a small ladle, pour the batter onto the waffle iron.  Close lid and bake for approximately 4 minutes.  Set finished waffles on a cooling rack.
When ready to serve, generously pour maple syrup on top with a side of Unfried Chicken Fingers.
Now link up and see what If I Could Escape and Gone Bananas are serving for this week's Friday Food Fight.
*Also submitted at*