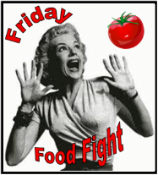 I stumbled upon some tickets for a prescreening of Judy Moody and the NOT Bummer Summer, but the girls and I arrived late to the AMC Theater at Westshore Plaza (which seems to be the story of my life these days) and no more seats were available.  For Allana and Emmalynn, it was becoming the NOT, NOT bummer summer.
Of course, my girls were heartbroken, but like any good parent slacker mom, I bribed my children with ice cream to help heal their pain.  However, it's been a while since we've eaten ice cream at Westshore Plaza because the Tanya and Matt's Ice Creamiest stand that once stood in the food court is now a cell phone kiosk.  Fantastic.
Feeling like I had failed my children twice in one evening, I had to devise another plan to redeem myself.  As we exited the mall, Allana spotted a sort of ice cream looking shop.  This frozen yogurt Evos looking, trendy wannabe TCBY would do the trick.
The bright and fresh appearance of Pinkberry was mirrored by the assortment of fresh fruit toppings.
Although, there were only a few flavors of frozen yogurts to choose from, each flavor was more flavorful than the one before it.  Allana loved the mango frozen yogurt and topped hers with Fruity Pebbles, which was like a small serving of an oxymoron.
Emmalynn ordered organic gummi bears with her mango yogurt.  I chose the salted caramel with chocolate chips, which made my treat taste like a chocolate covered pretzel.
As far as portion sizes, Pinkberry offered a mini size (3 oz serving) which I was tickled pink over it because it's the perfect and appropriate serving size.  Many frozen treat shops offer this portion as a kid's size, which is only available to children 12 and under.  Therefore, I truly appreciated the opportunity to select the smallest size and I also appreciated the caloric content listed on the menu, which reminded me not to overindulge.   But even if I did, this low calorie real non-fat, hormone-free milk made with live and active cultures yogurt would help make me feel less guilty about it.
With a quick pop into Pinkberry, I had redeemed myself in my girls' eyes.  For me, this healthy recovery was a sweet deal.  Unfortunately, ever since our visit, the girls and I've been dreaming of a different dessert. Sorry, ice cream.  W're on our way to P-I-N-K-B-E-R-R-Y.
And thanks to the Pinkberry website, I have this song stuck in my head too.  But that's all right.  It's almost as sweet as the frozen yogurt.
 [youtube=http://www.youtube.com/v/lZzsw3VYpWQ?version=3&hl=en_US]
Now link up and see what If I Could Escape and Gone Bananas are serving for this week's Friday Food Fight.
*Also submitted at*