With family back in town, we had a festive weekend for sure. It all began with my MIL's birthday on Sunday. She requested Iron Chef Allan's over-the-top brunch and to finish it off, he baked his mom a gorgeous rum cake.
Rum Cake

Ingredients
1 cup chopped pecans or walnuts
1 box yellow cake mix
1 – 3.75oz box vanilla pudding mix
4 eggs
½ cup cold water
½ cup oil
½ cup rum

Directions
Mix all cake ingredients together. Bake in Bundt pan at 325˚ for approximately one hour. Let cool and then remove from pan.

Glaze
¼ lb butter
¼ cup water
1 cup sugar
½ cup rum

Melt butter in sauce pan. Stir in water and sugar. Boil for 5 minutes, stirring constantly. Remove from the burner and add rum. Poke holes in the top and sides of the cake with a fork. Slowly spoon over the cake.
Then, we did it all over again the next day when everyone found their way back to our house for the Fourth of July. Another beautiful spread of festive foods, including those Applegate hot dogs we love so much and my infamous flag cake that I make every year.
With this year's cake, I got a little over zealous with the whipped topping and the fruit kept sinking into the quicksand icing.  So, it didn't look the prettiest but thankfully, the cake tasted better than it looked.
If you're a regular Run DMT, you may be wondering why I keep using similar cake titles for these cake posts. That's because I always think of this song when I begin drafting my cake posts. It plays over and over in my head as I type.
Now, the song will stick in your head too.  Hopefully, our yummy cakes recipes will stick in your head as well.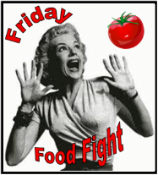 Even though Karen is back in the States, we're continuing to fling foods at one another. Link up and see what If I Could Escape and Gone Bananas are serving for this week's Friday Food Fight.
*Also submitted to*