For whatever reason, Allan and I have been craving shrimp Po' Boys.  Honestly, I have been craving a trip back to New Orleans, but that's a whole other post.  But for now, let's just say we've been craving its cuisine.
With our taste buds dictating our menu, I decided to try my hand at some Po' Boys.  I bought a loaf of crusty French bread at our local Publix, a head of beautiful leafy romaine lettuce and a red ripe tomato and put Iron Chef Allan to work as a sous chef slicing the veggies and bread…
…while I prepared the shrimp.
When everything was ready, we piled it all high and topped it off with some remoulade sauce, although I cheated a little with the remoulade sauce because I bought a bottle of Boars Head since I was too lazy to make it.  As much as I hated using it because it contained corn syrup, it still work well for our Po' Boy craving.  Besides a little corn syrup won't kill me, but the fried shrimp may.
The results were perfect, like something straight out of the Big Easy. Seriously.
Great.  Now, I'm craving a shrimp Po' Boy all over again.
Shrimp Po' Boys
Ingredients
1 loaf of crusty French bread cut into fours or 4 French baguettes
1 lb uncooked medium shrimp
¼ canola oil
2 eggs
2 cups Panko bread crumbs
2 cups all purpose flour
2 tsp Cajun seasoning
1 tsp salt
1 tsp black pepper
½ tsp smoked paprika
1 cup shredded lettuce
1 ripe tomato, sliced
1 jar Boars Head Savory Remoulade
Tabasco sauce (optional)
Directions
In one bowl, combine the flour, Cajun seasoning, salt, pepper and paprika and mix well.  In another bowl, prepare an egg wash.  Pour the panko bread crumbs in a third bowl.  Drench each shrimp in the flour mixture and the egg wash.  Then coat the shrimp in the panko bread crumbs.  As you prepare the shrimp, heat about ¼ cup canola oil in skillet on a medium to high heat.
Toss the shrimp into the heated oil and cook until about golden brown or 3 minutes on each side.  Remove from skillet and let shrimp sit on a dish covered with a paper towel.
Hollow out the center of one side of the baguette and pile on the shrimp.  Top with shredded lettuce and some sliced tomato.  Drizzle on remoulade sauce and Tabasco sauce and then serve.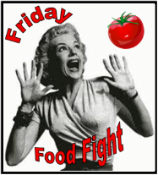 Now link up and see what If I Could Escape and Gone Bananas are serving for this week's Friday Food Fight.
*Also submitted at*