For this week's Friday Food Fight, I am spending four days in Anna Maria Island with 16 of my closest girlfriends and our good friends, Jose Cuervo and Captain Morgan.
As you can see we've packed light.
Well at least, we've packed plenty of light beer.
So for the next four days, we will be soaking up the sun and the alcohol.
On Monday, we will have to kiss and make-up with our livers and our arteries too, thanks to a crock pot queso dip Faith made, which consists of two ingredients: Ro*Tel and Velveeta.  Until this weekend, I have never eaten Velveeta and shit goop like this only looks good after a gallon of margaritas.
And man, it was good.  Gross, but good.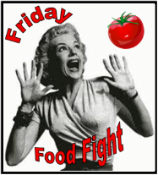 Now link up and see what If I Could Escape and Gone Bananas are serving for this week's Friday Food Fight.
*Also submitted at*