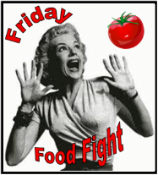 When my girlfriends and I go away for our annual beach weekend, obviously there's a lot of drinking.  And all that drinking leads to a lot of snacking which means piles of chips and dips.  (You may recall my Velveeta dip post.)  And of course, after some salty snacks, everyone craves sweets and candy which also mean an assortment of sweets laying around the place.
To curb our midnight hour muchies, I prepared some real food, like my empanadas and black beans and rice.
But also I decided to go all out this year and make some dessert for my darling drunk friends.  When I saw Brandy's Baking cupcakes featured on Sweet Tooth Friday, I wanted to try my hand at them.
They were a huge hit.  At least, I think they were.  I was three sheets to the wind so honestly I can't remember if anyone enjoyed them, but I'm impressed that I remembered to take photos of the things.  They did look pretty, didn't they?
The original cupcake recipe as presented by Brandy is made from scratch, but I'm too lazy to attempt anything like that.  Here's my modified recipe for all the slacker bakers like me.
Chocolate Chip Cookie Dough Cupcakes
Makes 24 cupcakes
Ingredients
Box devil's food cake mix
Large tub of prepared cookie dough or two tubes of prepared cookie dough.
Tub of vanilla icing
Mini-chocolate chips
Directions
Preheat oven to 350F. Line 2 cupcake/muffin pans with paper liners (24). In a large bowl, prepare the cake mix as directed on box.
Scoop batter into prepared pans. Place about 1 tsp of cookie dough into the center of each cupcake and press down lightly, making sure to cover dough with batter.  Bake for 22-24 minutes or until tops of cupcakes spring back when lightly touched. Let cool in pan on rack for 5-8 minutes. Remove from pan and let cool completely on rack.
With remaining the remaining cookie dough, round a small ball of cookie dough about 2 inches approximately the size of a teaspoon.  Place the cookie dough about 2 inches apart on a cookie sheet and bake according to directions on package.
Once the cookies are golden brown, remove cookie sheet from oven and let cool on a rack for about 5 minutes.  Then, gently remove cookies from cookie sheet and set on rack to cool completely before decorating cupcakes.
Fill piping bag with vanilla icing to frost the cupcakes.  Add a small swirl of icing and sprinkle with mini-chocolate chip cookie.  Finish cupcake by adding a small chocolate chip cookie.
Now link up and see what If I Could Escape and Gone Bananas are serving for this week's Friday Food Fight.
*Also submitted at*