Monday evening, Kelly and I joined some local foodie bloggers for the NesCafé Dolce Gusto FeedUp at Restaurant BT in South Tampa.
Having dined at Restaurant BT before, I was chomping at the bit to sample her NesCafé Dolce Gusto dish:  Shaking Beef (Bo Luc Lac).  Chef BT demonstrated how to prepare the dish, which is featured in the NesCafe Dolce Gusto- The Dinner Party Primer.
Shaking Beef (Bo Luc Lac)
Ingredients
1 lb filet mignon steak
4 cloves finely chopped garlic
2 Tbsp Oil or butter
1 Tbsp soy sauce
1 Tbsp fish sauce
1 Tbsp sugar
1/2 tsp freshly ground black pepper
2 vine ripe tomatoes
2 cups watercress
1/4 red onion, finely sliced
1 Tbsp Cognac (Courvoisier optional)
Directions
Cut steak into bite-sized cubes, place in a bowl with garlic, soy sauce. red onion, fish sauce, sugar and pepper.  Mix well.
Heat a large, heavy-based pan until very hot. Add oil or butter until brown.  Add beef cubes and toss by shaking the pan.
Turn meat with tongs until brown and seared on the outside but still pink in the center.
Add congnac and toss before removing from heat.
Slice tomatoes and arrange on plate to make a decorative base.
Arrange watercress around or on top of tomatoes and watercress.
Place the beff in a mound on top of tomatoes and watercress.
Served with jasmine-scented steamed rice.
The tender bite-sized filet mignon melted in my mouth.  It was simply divine and our evening was off to a very satisfying start.
After a few more appetizers and desserts with a Vietnamese flare, we sampled the NesCafé Dolce Gusto.  These coffees target a demographic audience of 25-35 year olds in attempt to tap into the Keurig market.
I often drink Starbuck's Via in a pinch, on the go or while camping and the NesCafé Dolce Gusto is very similar product.  As compared to Starbuck's Vanilla Via, the Dolce Gusto Vanilla Latte Macchiatto has a milder taste.  For my sample Dolce Gusto Vanilla Latte Macchiatto, I chose to go a little lighter on the cream and froth, so it needed a bit more sugar, but it was still very smooth and tasty.
Since I don't like my kitchen counters cluttered with a bunch of small appliances, the NesCafé Dolce Gusto Piccolo is the perfect compact size.  Plus, it is very easy to operate.  No barista training necessary.
[youtube=http://www.youtube.com/v/jHf-vmpDhl0?version=3&hl=en_US]
Although I am a Vanilla Latte kind of lady, there are a variety of other NesCafé Dolce Gusto Flavors, including regular brew coffees, cappuccinos, espressos, hot cocoa and iced teas.
And by the looks on all the bloggers' faces, it gets everyone's seal of approval.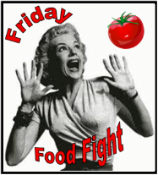 Now link up and see what If I Could Escape and Gone Bananas are serving for this week's Friday Food Fight.
*Also submitted at*