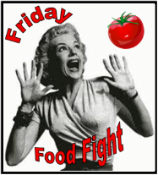 "Mom, every year, you make some version of green eggs and ham and we never like it. But I think you have a winner with this one!" (You can say that again, kid!)
I do so like green eggs and ham!
Thank you!
Thank you, Sam-I-am!   ­– Green Eggs and Ham, Dr. Seuss
There were tons of fun Dr. Seuss activities floating around Pinterest, however, when I spotted this non-seussical idea, I decided to attempt a green version for Dr. Seuss's birthday.
When I made these candied green eggs and ham, my kids gobbled them without complaint.  Imagine that!  I've never seen them so enthusiastic to eat green eggs and ham!
This will definitely be a tradition when honor Dr. Seuss's birthday.
And they'll be cupcakes too, of course.
Green Eggs and Ham (adapted from From Away)
Ingredients
4 ounce bar of good white chocolate
Green M&Ms candies
Pretzel sticks, broken in half.
Directions
Using a double boiler, bring 1-2 cups of water to a boil.  Break white chocolate up into small pieces and add to top pan, stirring constantly until chocolate melts.
Line a cookie sheet with wax paper or non-stick aluminum foil.  Drop small quarter-size dollops of white chocolate onto lined cookie sheet.  Place a single M&M on each chocolate pool, with the print facing down. Add two halves of pretzel sticks. Let cool completely at room temperature and then place in freezer for ten minutes to set candies.
Thanks for joining our weekly Friday Food Fight! Can't wait to see what everyone is flinging this week!
*Also submitted at*