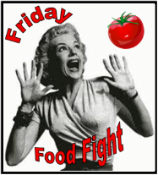 The elementary teacher in me cannot let Dr. Seuss's Birthday slip by without celebrating it somehow.  But it also could be the party planner person in me looking for any reason to celebrate something.  Either way, Dr. Seuss's body of work and contribution to children's literature and literacy should be recognized.  So with a little research and some creativity, I found a fun Seuss Supper to serve my family this week for Dr. Seuss's Birthday and this week's Friday Food Fight.
Do you like Green Eggs and Ham?  Would you like them here or there?  Would like them in a house?  Would you like them with a mouse? ­(from Dr. Seuss's Green Eggs and Ham)
Well, don't feel bad, because my kids wouldn't eat them either.  Funny enough, they'll eat green cupcakes and candy, but they won't touch green eggs.  Honestly, the eggs (and the photo) didn't turn out quite as well as I had hoped.  I followed these instructions and tried really hard not to break the yolk, but I don't think my cage-free organic eggs were fresh enough to cooperate.  (Real mature, Denise.  Blame it on the eggs.) With each failed attempt, I just kept scrambling the eggs.  The "ham", on the other hand, was easy to make green.  Using a dinner plate, I added two drops of green food coloring to about a Tbsp of water and soaked the "ham" (which is really tofu bologna because family won't eat ham, green or not) in the solution.  Then, I fried the ham in a pan lightly sprayed with cooking spray.
When my family wouldn't eat the green eggs and ham (which is probably a good thing because there's enough dye in that food to kill a horse make even the Grinch green with envy), I let my creative juices flow.  I knew they would devour Eggie Middles (others call this dish a Nest Egg).  Instead of a circular cookie cutter, I used a star shaped cookie cutter to cut a hole in the center of each slice of 5-Grain Italian bread.  Unfortunately, the eggs wouldn't cooperate once again and did not retain an egg shape once cooking in the pan.  But at least the star shaped toast looks nice, so the slices could have stars upon thars (The Sneetches and Other Stories).
After finding an adorable Cat in the Hat inspired cupcake, dessert was simple, but finding all the materials necessary to make the cupcakes was not.  Thanks to Felicia of Go Graham, Go, I located blue cotton candy at our local Dollar General.  But then, I couldn't find red cupcake liners!  Not even the silicone kind!  So, I cut red large beverage cups and used the bottom portion of the cups to hide the plain white cupcake liners.  Then, I downloaded Suess font and created Thing 1 and Thing 2 tags on white cardstock.  (Pay no attention to my poor cutting skills.)
You will see something new.  Two things.  And I call them Thing One and Thing Two. ­(from Dr. Suess' The Cat in the Hat)
On a side note, cotton candy does not do well in humidity.  Therefore if you live in a humid climate like me, add the cotton candy to the cupcakes right before you serve them.
If a cupcake loaded with icing and blue cotton candy isn't your cup of tea, then perhaps Ten Apples Up on Top (or just three) is a healthier option for you and your family.  May I suggest one of our favorite apples, such as a Jazz, Pink Lady or Gala?
So there you have it: A Seuss inspired supper with some healthier options too!  Happy Birthday, Dr. Seuss!
Now link up and see what If I Could Escape and Gone Bananas are serving for this week's Friday Food Fight.
*Also submitted to*