This is one crazy busy week as I prepare for my youngest daughter's birthday party this weekend. Striders assemble!  I mean…Avengers assemble!  See, I'm completely lost over here.
There's only a month left until the Chaotic Coteeman Triathlon sprint and sadly, I still have not rode my bike.  Tomorrow, I will get back on my bike and ride ten miles!  Promise.  I'm sure Chrissy will hold me to it.
The other day, I decided to dedicate Sunday as a swim/bike brick day.  I swam as many laps as I could in a half hour.  Well, it turned out to be a tad bit longer, more like 45 minutes.  Man, my shoulders were sore!  But it felt good, like a rewarding soreness.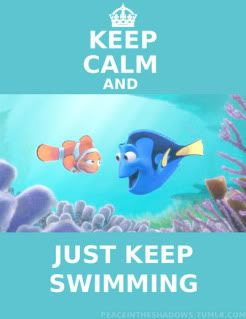 Here's the funny thing about my laps.  I've been doing them wrong.  It wasn't until Maribel joined me for a swim on Sunday that I learned how off my math had been.
Maribel counted the laps as one length of the pool.  I counted a lap as one length down and back.  So, when I thought I was doing 6-8 laps, I was really 12-16 laps.  Instead of swimming 150 yards, I've been swimming 300 yards.  Which also means when I said it took me around 6 minutes to swim 6 laps, it was really taking 6 minutes to swim 12 laps.  Therefore, I should finish my swim around the same time I did 4 years ago (3:14). Sweet.
So, on Sunday, I counted 24 laps in 45 minutes, but really it was 48 laps or ¾ of a mile.  Wow.  No wonder my shoulders were sore!
Later that evening, I totally flaked on the bike portion of that Sunday swim/bike brick. I was supposed to join Chrissy and Maribel on the trail for a 20 mile ride.  Unfortunately, storms rolled in and postponed our ride. During my rain delay, my darling husband tempted me with a margarita.  The saboteur!  There went my ride.  After all, I was under the influence and Lord knows, I don't need any additional assistance when it comes to falling off my bike.
As for my running, I decided to change things around and do my long runs on Saturday with Chrissy, Maribel and Larissa.  We're all training for Disney marathon and it would be more meaningful to be there with them every step along the way (literally).
That commitment began last Saturday when I ran 8 miles with them. I forgot to restart my Garmin at one point (I hate when I do that!), so I only have 7 miles recorded, but I really did do 8. I swear.
7 miles (but really 8 miles)
Time 1:17:04
Ave Pace 10:56
Max Pace 8:24
In exchange for my dedication, Chrissy and Maribel promised to bike with me because I'm too scared to ride alone.  I'm afraid I'll fall or get hit by a car.  In other words, I'm still not over my fear from 3 years ago.  If someone would just ride with me once, I think I would be o.k. I just need to take that first step pedal.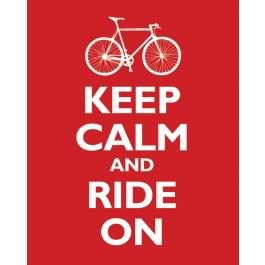 This will be my training schedule for the next couple of weeks.
Sunday – Swim for 30 minutes/Bike 10 miles
Monday – Easy 4 miles
Tuesday- Sprints 1 mile warm-up, 4 x 200, 1 mile cool down
Wednesday – Bike 10 miles
Thursday- 6 miles
Friday – Run 3.1/Swim 300 yards
Saturday – 7-10 miles
I know it looks intense and like I'm overtraining, but it's only for two weeks.  I'm leaving for a two week road trip at the end of July and I don't know when I'll be able to fit any tri training in during that time.
Yesterday, I ran 4 miles.
4 miles
Time 40:33
Ave Pace 10:09
Max Pace7:30
And today I did my sprints.  Man, it was humid and my asthma really slowed me down.
1 mile
Time 9:42
Lap 1 – 0.25
Time 1:48
Ave Pace 7:08
Lap 2 – 0.25
Time 1:53
Ave Pace 7:34
Lap 3 – 0.25
Time 1:51
Ave Pace 7:23
Lap 4
Time 1:56
Ave Pace 7:51
1.1 miles
Time 10:50
Ave Pace 9:51
So there you have it: my sprints, my overtraining, and my over the top stupid swimming but no bike ride…yet. Tomorrow!  I promise!
To join our Track Tuesday linky party, do your speed work (at least 4 quarter mile sprints) on Tuesday or any day you that works best for you, blog about your times and remember to add our cool Track Tuesday button to your post.  Then, link up your post at either Ricole Runs or Run DMT to share Track Tuesday Speed Work Sessions.  To show support for our other virtual running partners on the Track Tuesday Team, be sure to visit the other blogs listed in the linky party.  Give them a virtual high-five and leave some comment love too.
*Also linking up at*