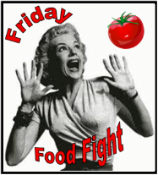 Thanks to Kristi's Summer Daze Photo Challenge, my children have been obsessing over root beer floats as well as foil dinners and snow cones.  I should have never printed out that checklist.
For the purpose of the Summer Daze Photo Challenge, I tried to capture photos of my kids enjoying their summer time treats, but they always slurped them down with such speed.  Is there some kind of root beer float competition like the Nathan's Hot Dog Eating Contest? I could win money with these kids.  After all, they have certainly trained like professional contest eaters.
I had such dreams and aspirations of snapping photos of my kids slurping on their icy treats in an old fashioned ice cream shop complete with black and white tiled floors and retro bar stools with squishy vinyl swivel seats.  But that never happened.
Instead I have my porch as a backdrop and empty glasses in their hands.  Such is the life of a suburban mom living in cow country with several Targets and no town center with an old fashioned soda shop.
But I really shouldn't complain because thanks to all our A&W and Breyers vanilla ice cream root beer floats, Allana came up with a pretty ingenious cupcake.  She suggested making root beer float cupcakes similar to the Grape Soda Cupcakes I made for Purple Day.  Allana went on to add, "You could even top the root beer float cupcakes with whipped cream and a cherry."
Now, that's pretty darn creative and very clever.  And with today being my birthday, I decided to whip up a batch.
You can lick the screen if you want.
Or try and tap it with a straw.
Either way, you don't want to miss out on this treat.
Root Beer Float Cupcakes
Ingredients
1 cup butter
2 cups sugar
4 eggs
4 cups cake flour
1 tsp vanilla
½  tsp baking soda
½  tsp of salt
½  tsp baking powder
1 ¾  cups Root Beer
24 cupcake liners
Whipped Cream for frosting (See recipe below.)
10oz jar of maraschino cherries, rinsed
Directions
In a standing mixer, cream the butter and sugar until well blended.  Add eggs one at a time, mixing well after each.  Add vanilla.
Whisk flour, baking soda, baking powder and salt together in another bowl.  Then add the flour mixture and root beer to the batter in mixer, alternating and ending with the flour mixture.
Ladle batter into cupcake liners about three-quarters full.
Bake at 350 degrees for 22-25 minutes. Cool on racks.
Once completely cooled, ice cupcakes with whipped cream.  Rinse and pat dry maraschino cherries with paper towels.  Top each cupcake with one cherry.
Yields 24 cupcakes.
Whipped Cream
Ingredients
1 pint heavy whipping cream
2 tsp vanilla
4 Tbsp powdered sugar
In a small bowl, whip heavy cream with a handheld mixer until soft peaks form.  Add vanilla and powdered sugar and mix until stiff.
Thanks for joining our weekly Friday Food Fight! Can't wait to see what everyone is flinging this week!
*Also submitted at*