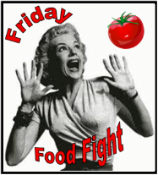 When Kirsten and I planned a purple picnic for our girls to celebrate Purple Day, purple cupcakes were on the menu.  And since I've become quite the baker these days, I wanted to try my hand at a new cake recipe.
So as I perused the aisles of my favorite Publix supermarket to pick another box of King Arthur Cake Flour, I spotted a special low price for Publix Grape Soda (2 for $1) and then my wheels got to spinning.  How could I do something really different besides a plain ol' white cake with purple frosting?   I've heard of cupcakes with Mountain Dew as an ingredient, but can you make cupcakes with grape soda?  With a quick Google search in supermarket (yet another reason to love smart phones), I stumbled upon a Grape Soda Cupcakes by The Kitchen Magpie.
Once I purchased all my ingredients including Publix Grape Soda and a package of purple Peeps, I had a little look around The Kitchen Magpie later that day and I adored her site, her stories and all her recipes.  However, for this particular recipe, I had to tweak it a bit because the directions were hard for me to follow as it was written like she was telling the recipe over the phone to a friend rather than actual directions.  Since I'm new to cooking and baking, I lack the intuitiveness that most bakers have (or are even born with) to know how create a cake masterpiece.  Therefore, I had to really read through it, understand it and reword it to where I could follow it with ease.
With my modifications, I also used less purple food coloring than the original recipe stated as I was trying to limit my kids' overexposure to Red #40 and Blue #1.
For icing, I followed the Joy of Cooking "Quick White Icing", which can also be found at TasteofHome.com.
In the end, I had the grape soda cupcakes I hoped for our Purple Day Picnic and the results were perfectly purplicious and delicious.
Grape Soda Cupcakes
(Adapted from The Kitchen Magpie)
Ingredients
1 cup butter
2 cups sugar
4 eggs
4 cups cake flour
1 tsp vanilla
½  tsp baking soda
½  tsp of salt
½  tsp baking powder
1 ¾  cups Publix Brand Grape Soda
Neon Food coloring pack
24 cupcake liners
Butter cream frosting
Purple Peeps or purple cake sprinkles
Directions
In a standing mixer, cream the butter and sugar until well blended.  Add eggs one at a time, mixing well after each.  Add vanilla.
Whisk flour, baking soda, baking powder and salt together in another bowl.
If using purple liquid food coloring, add a few drops to the egg batter to achieve desired color.  (Add a few drops for a lavender shade.  Add more drops for a darker violet shade.)
Then add the flour mixture and grape soda to the batter in mixer, alternating and ending with the flour mixture.
Ladle batter into cupcake liners about three-quarters full.
Bake at 350 degrees for 22-25 minutes. Cool completely.
Once cooled, add icing and decorate as desired.
Yields 24 cupcakes.
Thanks for joining our weekly Friday Food Fight! Can't wait to see what everyone is flinging this week!
*Also submitted at*