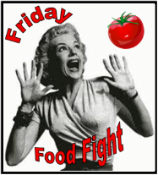 It may be too hot for camping at the moment, but it's never too warm to enjoy another camping tradition: s'mores.
Did you know that today (Friday, August 10) is National S'mores Day?
Not many foodie observations slip past this family, especially ones that involve chocolate.  In fact we love s'mores so much that my family and I created a S'more Hot Chocolate recipe together just for occasion, which is being featured at 5 Minutes for Mom.
But I saved this little treat for you.
I have to confess, a campfire confession, if you will.  I requested Iron Chef Allan to assist me with this.  (He made me tell you that or he would never help me again.)  
Because I haven't mastered meringue or even attempted to make marshmallow from scratch, Iron Chef Allan helped me with the marshmallow part.  Instead of a double-boiler, he used a large bowl to heat the eggs white to give him some extra room to whisk the egg whites into the fluff.
Then, he wouldn't have to transfer the mixture to bowl.  How clever is that?! 
Much like their outdoorsy sticky sandwich cousins, these chocolate cupcakes topped with marshmallow, chocolate and graham cracker will have everyone begging for s'more.
S'more Cupcakes
Chocolate Cupcakes
(Cupcake recipe borrowed from Joy of Baking.)
Ingredients
½ cup Dutch-processed cocoa powder
1 cup boiling hot water
1 1/3 cups all purpose flour
2 tsp baking powder
¼ tsp salt
½ cup unsalted butter, room temperature
1 cup granulated white sugar
2 large eggs
2 tsp pure vanilla extract
Directions
Preheat oven to 375 degrees F. Line 16 muffin cups with paper liners.
In a small bowl stir until smooth the boiling hot water and the cocoa powder. Let cool to room temperature.
In another bowl, whisk together the flour, baking powder, and salt.
Then in the bowl of your electric mixer, beat the butter and sugar until light and fluffy. Add the eggs, one at a time, beating until smooth. Scrape down the sides of the bowl as needed. Beat in the vanilla extract. Add the flour mixture and beat only until incorporated. Then add the cooled cocoa mixture and stir until smooth.
Fill each muffin cup about two-thirds full with batter and bake for about 16-20 minutes or until risen, springy to the touch, and a toothpick inserted into a cupcake comes out clean. (Do not over bake or cupcakes will be dry.) Remove from oven and place on a wire rack to cool. Once the cupcakes have completely cooled, top with marshmallow frosting (see below).

 
 Marshmallow Topping
(Recipe borrowed from Annie Eats.)
Ingredients
4 large egg whites, at room temperature
1 cup sugar
¼ tsp. cream of tartar
1 tsp. vanilla extract
Graham crackers, broken into quarter segments
Hershey's Milk Chocolate Bar (1.55 oz), broken into segments
Directions
Combine the egg whites, sugar and cream of tartar in a bowl set over a pan of a few inches of simmering water.  Heat the mixture, whisking frequently, until it reaches 160° F.
Once the mixture reaches 160 degrees, remove from stove.
Using a hand-held mixer, whisk starting at low speed and gradually increasing to medium-high speed until stiff, glossy peaks form. Mix in the vanilla until combined.
Transfer the marshmallow frosting to a decorating bag with a large round decorative tip and pipe over cupcakes.  Lightly brown with a kitchen torch.
Garnish each cupcake topping with chocolate and a graham cracker.
Thanks for joining our weekly Friday Food Fight! Can't wait to see what everyone is flinging this week!
*Also submitted at*