Yesterday, my girls returned to school and it was back to our regularly scheduled programming.  Well, I tried to return to business as usual and I started off pretty good with a 5:00 a.m. wake up to run.  But somewhere along the way, I didn't get much done.  At least I ran.
I'm blaming my lack of blogging and housework on the mimosas I sipped guzzled at our annual Boo Hoo/Woo Hoo Breakfast.  Every year on the first day of school, my friends and I meet for breakfast after we drop the kids off.  Some moms are giddy to be kids free and some are tearful.  For me, I was glad to see my girlfriends because it felt like we haven't seen each other in ages.
This is the first year our Boo Hoo Breakfast became a Mimosa Monday and that was just lovely.  We raised our glasses to good friends, a great school year and hopefully, many more Mimosa Mondays to come.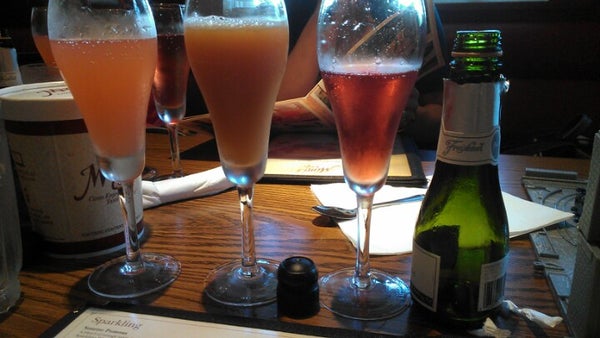 Now that the girls are back in school, I'm back to waking up at 5:00 a.m. to run.  Holy dark night, Batman!  It's dark out there!  During our lazy days of summer, I've enjoyed waking up late and chasing the sun for weeks but I forgot how dark it is in the early morning.  However, it's even darker than normal as there are a few streetlamps out along the main boulevard.  I could barely see the road and the clowns hiding in the storm drains.
Speaking clowns and other fears… after competing in the Chaotic Coteeman, a few weeks ago, I caught the tri bug once more and really wanted to compete in another sprint this fall while the weather is still warm.  Since I waited to see how I would perform at the Coteeman (not falling off my bike or drowning), I missed the discounted early entry fees.  As luck would have it, one of my Striders friends' husband's business offered to sponsor a few of us and I jumped on it!  Looks like I'll be competing in the Tarpon Springs Tri next month!
So on Wednesday to keep up with my tri training, I ran 3.1 miles and swam 40 laps. The swim took me about 20 minutes and it felt awesome.
8/15
3.1 miles
Time 30:24
Ave Pace 9:49
Max Pace 8:14
Thursday, I ran 4 miles.  Since I woke up late, I decided to run a different route, one I haven't run in awhile.  I decided to take a scenic route around the larger lake in my neighborhood for some serenity while watching carefully for snakes and gators.  A beautiful breeze blew as the sun glistened and it felt like God was smiling. Namaste.
8/16
4 miles
Time 40:41
Ave Pace 10:11
Max Pace 8:17
Last Saturday I went for an 8 mile run.  When I woke up, I heard thunder and then it seemed to pass.  I walked outside, checked the sky and it seemed to be clear.  So, off I went.  About 5 miles into the run, the skies opened and lightning crashed.  So what does a runner do in a thunderstorm?
a)      Seek shelter.
b)      Fall into the fetal position under a tree.
c)       Pray.
d)      Keep running.
Though I was tempted to stop at my friends' Faith and Greg's house, I continued sloshing along in the rain.  And it sucked.  But I finished my 8 miles without being electrocuted and that's all that matters.  My poor husband was so worried about me running in a thunderstorm that he loaded the kids up in the car to search for me.  I honestly don't know how he missed me in the fetal position on the sidewalk.
8/18
8 miles
Time 1:25:01
Ave Pace 10:38
Max Pace 7:53
On Sunday, I rode 11 miles which wasn't great, but at least I did it.  Biking is definitely my weakest area and the one I need to train harder.  Looks there will be another bike ride later this week.
8/19
Bike 11 miles
Time 49:25
Ave Speed 13.4
Max Speed 15.9
When rode ran yesterday in the dark, I forgot to change the setting on my Garmin back to running.  About a half mile into the run, I realized my watch was displaying speed instead of pace.  UGH!
8/20
4.68 miles
Time 48:40
Ave Pace 10:24
Max Pace 7:51
As for training harder, it's Tuesday and time for sprints. I tried to give it my all.
8/21
1 mile
9:39

Lap 1 – 0.25
Time 1:55:71
Ave Pace 7:38

Lap 2 – 0.25
Time 1:52:88
Ave Pace 7:32

Lap 3 – 0.25
Time 1:55:10
Ave Pace 7:45

Lap 4 – 0.25
Time 1:56:82
Ave Pace 7:46

1.1   mile
Time 10:53
Ave Pace 9:53
To join our Track Tuesday linky party, do your speed work (at least 4 quarter mile sprints) on Tuesday or any day you that works best for you, blog about your times and remember to add our cool Track Tuesday button to your post.  Then, link up your post at either Ricole Runs or Run DMT to share Track Tuesday Speed Work Sessions.  To show support for our other virtual running partners on the Track Tuesday Team, be sure to visit the other blogs listed in the linky party.  Give them a virtual high-five and leave some comment love too.
*Also linking up at*