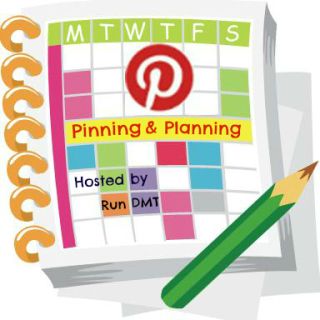 Since I plan my meals for the week every Sunday, I decided to share my menus with you as a new weekly Sunday feature entitled "Pinning & Planning".
Upon discovering Pinterest about a year ago, I have used it mostly as a virtual cookbook. Through Pinterest, I've discovered so many delicious recipes which I pin to my "Food, Glorious Food" board.  By incorporating at least one pinned recipe into my weekly menus, it encourages me to cook them.
When planning my weekly menus, I also use my local supermarket ad (Publix).  Once I learn what meats, veggies and other ingredients are on sale, I start narrowing down my dinner options.
We try to eat organic meat most of the time, but it become really costly.  When organic meat is not on sale, those are the days when we eat more vegetarian.
Publix's Greenwise (store brand organic) chicken wasn't on sale this week, but I had a pound tucked away in the freezer.  When it goes on sale, I'll stock up.  Whatever meat is left unused, I'll freeze it and save it for dinner another week.  That was the case this week.
This week, tilapia is on special ($6.99/lb) and Fresh Attitudes Salad is BOGO, so I bought a container of arugula and baby spinach.  Organic grape tomatoes were $2.99 a pint, only $0.50 more than regular grape tomatoes.
Also this week, Publix is featuring a new rotisserie chicken, Ancho Cherry Chicken (page 9 in weekly ad), so I thought we'd give it a try.  Red and Gold potatoes are also on sale ($2.99/lb) and either potato would make a delicious side dish for the rotisserie chicken.
Here's my menu for the week:
Sunday – Chicken Picatta with Pasta
Monday – Roasted Veggies with Goat Cheese on Cuban bread
Tuesday – Banging Baked Fish Tacos with Cole Slaw
Wednesday – Ancho Cherry Chicken and Parmesan Fries with Steamed Broccoli
Thursday – Linguini with Arugula and Grape Tomatoes
Friday – Pizza
Saturday – dinner out
Do you plan your dinners for the week?  Do your meals revolve around Pinterest pins and your supermarket's weekly specials? 
Link up and tell us all about the meals you're planning.
If you're not on Pinterest, send me an email and send you an invite.