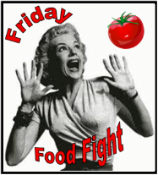 Simple is key for me.  Probably like many of you, my day is non-stop from the moment I wake-up to the time I crash at night.  Although I spend plenty of time planning our meals, carving out time to cook dinner becomes the real chore.  Often times, I find myself preparing dinner while helping my kids with homework which means dinner can't be too complicated.
However, I don't want to sacrifice taste for simplicity.  Thank goodness meals like this offer both.  It's quick and easy to whip but the flavors give the illusion that you've been working on this dinner all day.
Roasted Tomatoes with Shrimp and Reduced Fat Feta
Ingredients
(Adapted from Real Simple)
1 pint cherry tomatoes, cut into halves
3 Tbsp olive oil
2 Tbsp minced garlic
1 tsp salt
1 tsp black pepper
1 lb medium shrimp, peeled and deveined
½ cup chopped fresh parsley
Juice of one lemon
1 cup reduced fat feta, crumbled
Directions
Heat oven to 450° F.
Toss tomatoes in a large bowl with olive oil, garlic, salt and pepper until even coated.  Place the tomatoes in a large baking dish. Roast on in oven for 20 minutes.
Remove baking dish from oven and stir in the shrimp, parsley, and lemon juice. Sprinkle with the Feta.
Return the dish to oven until the shrimp are cooked through, about 10 to 15 minutes. Serve warm with the crusty bread or over rice.
Thanks for joining our weekly Friday Food Fight! Can't wait to see what everyone is flinging this week!
*Also submitted at*