Remember how much I loved my Incredible?  I bragged about it all the time.  I loved the light, compact and ergonomic feel of it.  Plus, the 4G network capability was lightning fast and the touch screen allowed smooth texting, smart word sense for clumsy fingers.
I loved that phone and I still do.
Over the holidays, my friends at Verizon sent me a new phone, the DNA.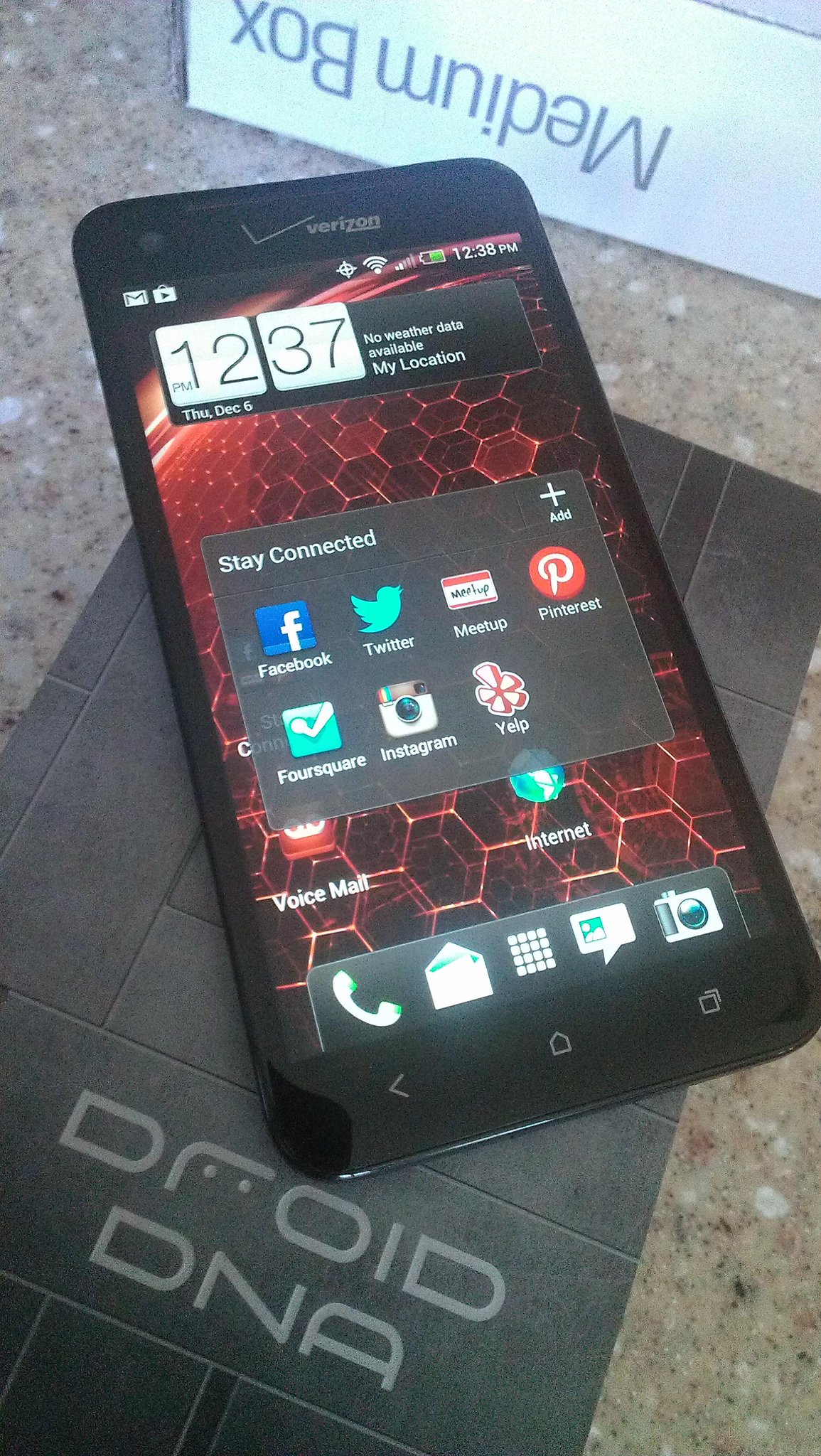 My old eyes liked the large screen, but to be honest, I found the phone quite heavy compared to the Incredible.
I wondered how I would manage my new brick phone as I slipped the phone into my back jean pocket.   Then, it slipped out and fell onto my driveway when I climbed into the car.
"UGH!  See, it's too big!" I hollered out in frustration.  "Dumb phone.  I love my Incredible."  Thankfully, I also received an Otterbox so further damage would be done to the DNA.
With hesitation and a bit of grumbling, I downloaded all my favorite social media apps.  In nanoseconds, the apps were all there.  "Wow.  Now, that's incredible."  With 5G capability, the DNA makes the Incredible seem like it's standing still.
Since I loved the camera of the Incredible, I decided to play around with the camera feature of the DNA. Of course, I started with the reverse camera because I just love taking silly photos of me, my friends and our kids.
"Tap to start countdown," appeared at the bottom of the screen.
"Well that's interesting", I thought as I hit the shutter icon.  My eyes were drawn to the large numbers in the bottom left corner next to the camera. "3…2…1…click".  A perfect shot with everyone looking in the right spot (even photobombers).
Of course, everyone older than two will look at the camera.
With the Incredible, no one knew exactly where to look when taking a reverse photo.  I had to wave my finger over the camera to help my photo subjects learn where to fix their eyes.
So, I decided to test out the video.  The video feature also has front-facing capability with 1080p, which is perfect for the vlogging I need to be doing more of these days.  Check out my new Soup du Jour posts which demonstrates the power and beauty of the DNA front-facing video here and here.
As for other interesting DNA specs, I can…
Take 1080p HD video with both cameras. The front camera also has a wider angle than most phones to capture more people and background in self–portraits
Shoot up to four photos per second with a rear–facing 8–megapixel HD camera. You'll capture all the action, whether you're dancing or watching your kid's basketball game
Turn any frame from those videos into a still photo, so you can share them on your Facebook wall
Feel confident that your photos will look crisp when taken in low–light settings.
So, as much as I resisted the DNA, I find myself using it more and more because it fits into my blogging world more.  Like the DNA tagline says, it's the right smartphone.  It doesn't just assimilate into your life; it greatly enhances it.  Every day, I'm realizing that more and more.  After all, resistance is futile.
However, I still LOVE the Incredible because it's perfect for personal use and my lifestyle as a mom on the run.  The Incredible fits so snuggly in my fuel belt, running clothes pockets and my purse.
Much like heads, two phones are better than one.  Both phones truly to enhance my life as a runner mother blogger on the run.
"Disclosure: I am participating in the Verizon Wireless Ambassador program and have been provided with a wireless device and three months of service in exchange for my honest opinions about the product."