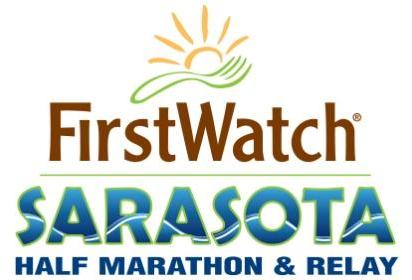 Just to let you know, the Sarasota Half Marathon was never part of my race plan.  Many of friends were running it and I wanted to be part of it but couldn't afford another race in my already overfilled race budget.  Once I saw the medal, I really wanted to do it.
As fate would have it, my friend, Marie, couldn't run the half marathon for personal reasons.  Marie offered up her bib and I pounced on it, before realizing, my family and I were planning to visit with Thomas the Tank Engine later that day in Parrish.  See, not part of the original plan.  But this mom on the run found a way to make it all fit! And of course, I would wear green for a half marathon that falls on St. Patrick's Day!
Thankfully, Chrissy's sister, Angie, lives in Parrish which is about 40 minutes from the race start and she offered her house as a place to crash.  We headed down Saturday afternoon to pick up our packets and join the Suncoast Striders for dinner.  (That's where Chrissy and I discovered Trader Joe's next door which is a whole other blog post!)
*Photo by David of the Suncoast Striders*
To review thus far, I had a free place to stay and a free race entry, but paid for it by spending a small fortune at Trader Joe's, overpriced pasta at Café Cocci, then staying up late drinking and laughing with Angie (Chrissy's sister), her husband, Tony and their friends.
In a few short hours, 5:00 a.m. came fast, but thankfully I slept like a rock.  We ate breakfast in the car on our way to the Sarasota Half Marathon.
We arrived with plenty of time to head to the start with temps were around 57 degrees which is perfect for running, but Chrissy  and I opted to stay in the car a little longer and steam up windows. It was toasty warm in there.  We would regret the decision later as we missed our bathroom break before race moment.
At the start we bumped in a few Strider friends, wished everyone a great race and of course posed for a few photos.  Everyone piled into the corral and the gun sounded off quickly after that.  We were all on our first leg of the course headed towards that horrid bridge, the Sarasota causeway.
Chrissy and I had a good mile warm-up run through the streets of Sarasota before reaching the John Ringling Causeway.  At mile two, we began the incline, but incline can't describe this "hill".  This slope dwarfs the Clearwater Causeway or the Sand Key Bridge.  This bridge did not feel normal despite what the sign said.
Once over the top we began our decline, but not really.  We discovered another small bridge on the other side.  Curse you bridges!
Past the Mama Bridge and her baby bridge, we followed a roundabout through a town center.  Somehow, I spotted Ben and Jerry's there.  My Chubby Hubby ice cream fantasy was soon interrupted once I realized we were heading back over the bridges.  I was a grumpy old troll running over the bridge.
On the return trip over the bridge, I walked a bit more, especially once I saw the sunrise over downtown Sarasota.  I embraced the sunrise with a walking break to snap a few photos.
Back over the big bad mama bridge, I spotted a remote-control hovercraft taking photos.  Once over the top of Mama Bridge we began our decline into downtown.
At the bottom, we kissed adieu to the bridges as we began our journey north along the Tamiami Trail.  But first, we had to pop into a port-o-let which added about 5 minutes onto time, but we were desperate since we didn't go before the race.
For the next couple of miles, Chrissy took the opportunity to hone her self-portrait skills.  As our always designated self-portrait picture taker, she decided to challenge herself by taking self-portraits while running.  Chrissy must have taken a dozen or so and we laughed over outtakes, the ridiculous angles and expressions on our faces.
Ironically, at mile 8 we passed a Super 8 Motel.  Around this point, Chrissy began having trouble with her hamstrings and Chrissy never has trouble.  I'm usually the one with some pain or issue.  The pain forced her to stop and stretch, which is something she never does.
I stayed with Chrissy because I wasn't really trying to run hard or PR and I gave everything I had at Saturday's Spring Sprint 5K.  I was just having fun at a race I was never meant to do and we were definitely having fun up until Chrissy started hurting.
However, it hurt for her to stop.  She had to keep moving.  She continued at a slower pace and I continued to take photos and sprinted to catch up with her.
At mile 9, we passed the Ringling Museum of Art and continued on a path through the beautiful residential community of Indian Beach Sapphire Shores.
At mile 10, Chrissy needed to stretch her hamstring some more.  While she stretched, I hunted down some ibuprofen for her at the water station. No one could supply any; however, a young man was quick to inform me, "You shouldn't take that.  It's bad for your kidneys."  Thinking about my poor injured running partner, I looked at him in disbelief and had no response (which is not like me).  Had I not been focused on finding ibuprofen or helping my friend I would have replied, "Well so is Gatorade, but I don't see that from stopping you shoveling out the sh*t stuff."
Anyway, no ibuprofen and only 3.1 miles left to go.  We got this.  At this point, we bump into fellow Strider and blogger, Jackie of See Jackie Runn.  We were tutu twins.
The mile 11 water station wins the award for most spirit.  Maybe it was the green beer and mimosas, but they delivered some amazing energy which is what you need to finish.  When I stopped to take photos, they hollered, "There's no stopping to take photos, Marie!  Keep running!"
All throughout the race, people cheered, "Go Marie!  You're looking good, Marie!"  It made me laugh every time.  But I did need to make Marie proud and finish around the 2:30 mark, so I really did need to keep running if I was going to hit that mark.
We pushed it a little harder and I predicted a 2:26 finish.  No more photos now.  Well, maybe a few more leading up the finish line.
Just as I predicted, Chrissy and "Marie" finished at 2:26:25 and we finished together.  Jackie finished a few minutes behind us.
Bib#1797
Clock Time 2:26:51
Chip Time 2:26:25
Ave Pace 11:11
After a few finisher photos and removing the palm tree from my head, we sprinted to the breakfast spread by First Watch that waited ahead.  The yogurt parfaits were my favorite.  I think I ate three.  Hey, runners need protein!  I was hoping for First Watch's famous pancakes as the signage along the course promised, but threes parfaits would suffice.
Since Chrissy and I needed to leave shortly after the race, we didn't have time to enjoy all the post-race activities overlooking the gorgeous gulfview, like the beer truck.  At least we enjoyed the entertainment briefly.
 I was green with leprechaun envy over Mike's pot of gold headband.
Next year (Yes, I will definitely be back next year), I would love to make our trip to Sarasota a long weekend and stay overnight to enjoy the post-race party and festivities.  Despite the the John Ringling Causeway, also known BAMR Mama Bridge and baby bridge (which was GREAT training for Iron Girl), the race was fun full of high-energy thanks to the spectators.  A big shout out and thank you to all the volunteers and spectators who cheered and served the runners.  Next time, please have ibuprofen and Vaseline on hand.
And next time, the medal needs to be bigger.