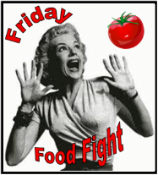 Last week, I felt as though my weekly menus were losing flare.  My Meatless Mondays were becoming a bit monotonous.  As much as I love planning a no meat dinner menu item every week, I was bored with the dinners.
So, I turned to my Run DMT Facebook fans and asked for some tasty vegetarian ideas.  Within the hour, people suggested recipes, pins and sites with great vegetarian recipes.  And just like that, my menu wasn't so monotonous anymore.
This week, I added a Vegetable Baked Penne to our weekly Meatless Monday rotation.  This Vegetable Baked Penne is an adapted dish from Oh My Veggies.  Kiersten offers lots of simple vegetarian recipes and even offers some time-saving steps by using already prepared items to throw in to a dish.  Check out the Oh My Veggie recipe index here.
For this Vegetable Baked Penne, I added my own simple tomato sauce, but made two batches of it. One batch was added to the recipe and the other batch was reserved for toppings when serving the dish, because I love extra sauce on my baked ziti.
I also added broccoli.  Why not?  Plus, I sneaked in whole pasta because I thought all the cheesy yummy gooeyness would mask the whole wheat texture from my kids, which it totally did.  This dish was different a winner!
Keep in mind, this Baked Vegetable Penne is enough to feed a small army and great for a big crowd.  If you're trying to watch portion sizes, consider using two smaller pans and freezing one half or freeze the leftovers.
*Recipe adapted from Oh My Veggies*
Vegetable Baked Penne
Cuisine:
Italian, Casserole
Prep time:
Cook time:
Total time:
A basic baked ziti with a mix of healthy vegetables.
Ingredients
Run DMT's Simple Tomato Sauce
1 Tbsp olive oil
½ large onion ( 1 cup), thinly sliced Asian-style
2 garlic cloves, minced
2 large zucchini, halved lengthwise and thinly sliced
1 pint pre-sliced pint baby bella mushrooms
1 head of broccoli, chopped
1 lb. whole wheat penne pasta
1-15 oz part-skim ricotta cheese
1 cup part-skim mozzarella, plus a ¼ cup for topping
¼ cup parmesan cheese, plus 2 Tbsp for topping
Instructions
Preheat oven to 350 degrees.
Prepare penne according to direction on box, but cut cooking time in half (about 5 minutes). Drain and return to pot. Add a small amount of olive oil to prevent sticking.
Heat olive oil in a large skillet over medium heat. Add onion and sauté until softened and transculent. Add garlic and sauté until aromatic.
Add zucchini and mushrooms. Cook until softened and little liquid in the pan. Add chopped broccoli and cook until softened. Remove from heat.
In pasta pot, combine vegetables, tomato sauce, mozzarella, ricotta and parmesan cheese. Stir until well combined. Pour into a 9x13 baking dish pan. Top with additional mozzarella and parmesan.
Cover with foil and bake for 30 minutes.
Thanks for joining our Friday Food Fight!  Can't wait to see what everyone is flinging this week!
*Also submitted at*