When planning our Purple Day 5K event, I wanted to emphasize the phrase "fun run".  Many people are intimidated by runs because they think they're too slow or they walk too much or they can't run at all.  To maximize participation among our friends, the Purple Day 5K was designed to be stroller friendly, kid friendly, walker friendly and even dog friendly.
Despite a frigid (by Florida standards) 48 degrees, we had a great turnout for a last minute fun run.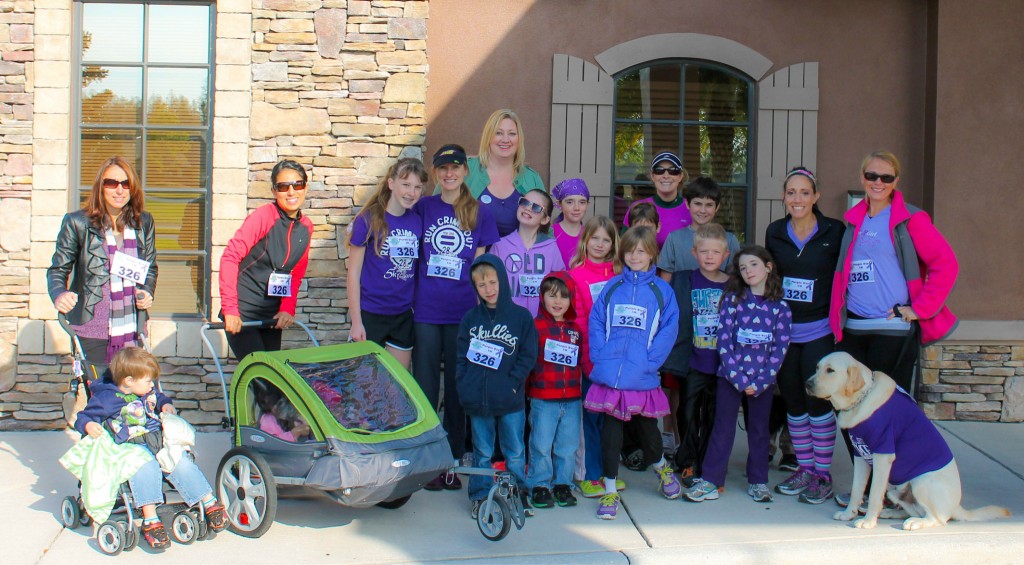 Plus, I bribed everyone to join us with purple cupcakes and other purple treats.
For the 5K, we ran along a 1.5 half route along a boulevard in our neighborhood and then turned around for a return 1.5 trip to the back to the community park.
"Mom, we're beating you!" my oldest daughter, Allana, hollered out.
"We're supposed to beating epilepsy, not each other!" I shouted back.
My SIL, Kirsten (an epilpesy advocate), worked as our race photographer and distributed first aid seizure cards and pamphlets to "talk about it".
The purpose behind this Purple Day event was to educate and show support for epilepsy awareness, because someone we love needs a cure.  There are approximately 65 million people around the world living with epilepsy.  My niece, Meghan is one of them.
The response to our last-minute Purple Day 5K was truly overwhelming.  We had people all over the world wearing purple, running and sharing photos.  Thank you to everyone who supported our cause!
"Respect the purple!" – Allana, our own Cassidy Megan lookalike.
Cassidy Megan created the idea of Purple Day in 2008, motivated by her own struggles with epilepsy. Cassidy's goal is to get people talking about epilepsy in an effort to dispel myths and inform those with seizures that they are not alone. The Epilepsy Association of Nova Scotia came on board in 2008 to help develop Cassidy's idea which is now known as the Purple Day for epilepsy campaign. – Purple Day
To learn more about Purple Day and how you can help educate others about epilepsy, visit purpleday.org.