Disclaimer: I was provided with a free race entry in exchange for my honest review of my Iron Girl Clearwater experience.  The opinions shared are my own.
The night before the race, my pre-race activities are similar to that of many other runners.  I lay out my clothes.  I charge my cell phone, Garmin and MP3 player.  I'll fill my water for the road and pack my pre-race breakfast (PB Ritz Bits Crackers, a banana), Cliff shots and other snacks.
I also always check the weather.  Sunday's forecast predicted 70 degrees at the start and 93% humidity.  Although I so desperately wanted to beat my Iron Girl time from two years ago in the hopes of shaving 20 minutes off my time to finish close to 2:15, Sunday would not be the day for that goal.  Dealing with the reality of the hot weather and humidity, I decided to go out there and do my best for now.  I'll train hard this summer and come back stronger for my half marathons in the fall.
Chrissy and I arrived at Coachman Park around 6:30 but we were late arriving at the Athelta tent to meet our friends for a photo opp with Daffodil, Maribel, Tanya, Mindy and Jina.  Our tardiness also caused us to miss Jenny's big Athleta's Power to She moment for photos, but fortunately we heard her inspirational story with the rest of the crowd.
After a quick few photos with our friends, Chrissy and I darted off the the start line.  We pushed our way through the crowd to find a spot relatively close to the 2:15 pace group, because I still had hopes to finish close to that time.
The first mile of the race led us through the "hills" of downtown Clearwater, which was a good warm-up for the Clearwater Causeway.  It also helped us look strong when we ran past Megan of Little Girl in a Big World.
Once Chrissy and I reached Clearwater Beach, I exclaimed with joy for Hooters on the beach.  I was also excited to still be behind the 2:15 pace group.  As long as they stayed in my sight, I could hold onto the hope of finishing close to that time.
I experienced 15 minutes of fame behind the 2:15 pace group.  Recognizing my run happy and snappy talents, another runner asked, "Are you Denise of Run DMT?"
"Yes, I am!"
"I thought so!  I am such a huge fan of your blog."  I experienced blush and runners flush at the same time.
In my five years of blogging, that has never happened.  I'm usually the one plugging and promoting my blog along the course whenever people ask me how or why I take photos while running.  Ironically, I experienced this a few times during Iron Girl.
Shortly after my 15 minutes of fame, Chrissy was having trouble with her knee and needed to stretch.  We had agreed to split up if necessary and at this point, I pushed on ahead.
Chrissy quickly caught up with (which I knew she would) and then pulled ahead once we reached the Sand Key bridge.  I needed to walk more than her. Plus, I enjoyed the view from the top.
After the bridge, around mile 5 turned into Sand Key park (like the Clearwater Marathon), except this time we had an extra loop through the parking lot.
Although Chrissy and I had long separated by now, the first half of the course seemed to be going well.
Around 6.5 miles, the sun tried to peek through the overcast and I spotted the 2:15 pace group on their return trip back to Sand Key Bridge.  They were a good five minutes ahead of me and I felt bit deflated.  All hopes to finish around 2:15 were now abandoned.  Would I even beat my time from two years ago?
During the return trip to Sand Key, my Tampa Bay Blogger friends, Jessica and Jina, cheered for me as we passed each other on Gulf Boulevard and I felt invigorated.  I was ready to face the Sandy Key bridge again.
Despite all the signs telling me "Tired legs are sexy", I couldn't give more than 13 minute mile over the bridge and I still had to occasionally stop and walk.  On my return ambulatory journey over the Sand Key Bridge, I began to wonder why I even attempted this race.  You know it's bad when you can't see the silver lining or in this case, the road, on the other side.
After the Sand Key Bridge, we were led through the backstreets of Clearwater Beach for our return trip to Coachman Park.  I enjoyed the slightly different route home.  The change renewed my energy and I found myself pushing it just slightly harder.
As we left Clearwater, I thanked an older police officer standing on the turn before the causeway and he replied, "When they asked me to work, I said "Sure who wouldn't want to watch beautiful women go by for two hours?"  His remarks had me smiling all along the stretch back to Coachman Park.
Along the Causeway, I chatted with a few other runners to make my mind off the steep incline of the Causeway and the headwind.  Only a little over a mile remained.
As we reached the end of the Clearwater Causeway, we approached the beginning of the helix with its long downward spiral.  A few runners became dizzy and started to slow down, but I sped up. Once we hit the bottom, I knew the finish line was only about a quarter mile away and I sprang off the helix with a sprint.
I sprinted about a 6:26 to the finish line.
*Photo credit to Digital Running*
2:24:18
Ave Pace Split 1 (6.5 miles) 10:37
Ave Pace Finish 11:01
Overall Place 566/1257
Age Div 101/219
Although I didn't beat my time from two years ago by 20 minutes like I had hoped, I still shaved 7 minutes off that time.  I also shaved 2 minutes off my Sarasota finish time!  Take that bridges! HA!
Iron Girl was definitely a true test of my endurance and thirst.  (They seriously need more water stations throughout the course.  I would suggest approximately every mile.)  Those bridges are tough and my Achilles acted up occasionally, but I would totally do it again.  If given the opportunity to compete at Iron Girl again, I will train harder next time by making more of an effort to train on the Clearwater Causeway.
But for now, I need to rev up my swimming and cycling to train for Iron Girl Clermont!
Because I am an Iron Girl…
…and I will always be an Iron Girl in training.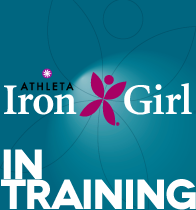 A big THANK YOU to the wonderful staff of Iron Girl for making this race possible for some many of the women of the Tampa Bay Bloggers!