I've committed to riding my bike twice a week.  I should ride more, but that's all can fit in for now.  Last Wednesday, I met the sTRIders at the trail to ride ten miles.  They were rode 20 miles, but at my sad average speed of 14mph, I can't keep up with over 20mph.  Since I ride the same speed as a turtle riding a snail, ten miles is all I can fit in the short window of time I have to ride.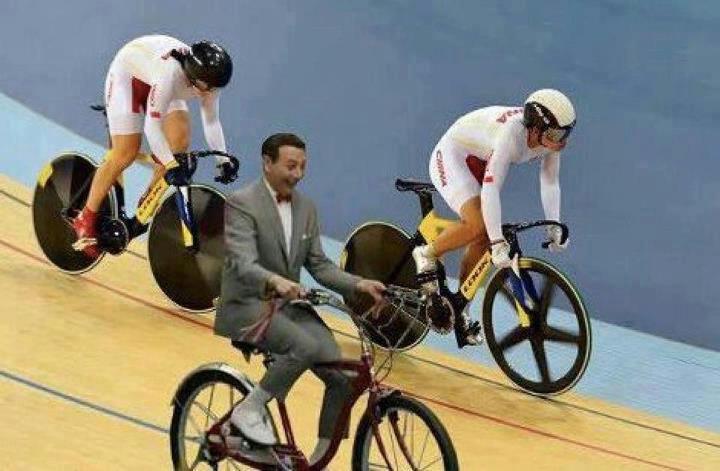 10.6 miles
Time 46:36
Ave Speed 12.9 mph
Max Speed 15.7 mph
Actually, forget turtle riding a snail; I feel more like Pee-Wee Herman when I ride with them.  My balance is off and I'm all over the place.  I'm hoping once I get my bike properly fitted at OutSpokin', I'll feel a bit more balanced and comfortable.  I'd also like to switch out my pedals for clip-ins, which is an accident waiting to happen, but everyone says your pedaling is much more efficient when you're clipped in.  I could use all the help I can get to go faster.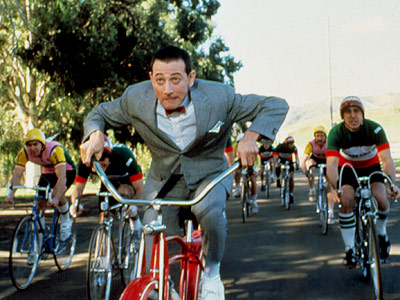 Thursday was the Lutz Independence Day Run and I rocked it.  Friday, my legs were sore from pushing them so hard in the 5K, so I rested.  Since my allergies flared up, my whole body needed the rest.
Saturday, I ran the Running Mad Virtual 10K sponsored by Moms Run This Town.  With lots of asthma-related wheezing and sore legs, my 10K performance wasn't the greatest.  But I did it and I earned a really cool Alice in Wonderland themed-medal.
MRTT also sent me a beer coozie, which holds my Sea Dog quite nicely.  It's important to coordinate your blueberry beer to your coozie.
6.35 miles
Time 1:04
Ave Pace 10:12
Max Pace 7:36
Sunday, I planned to do another bike/swim brick, but I woke up late.  I only had time to ride, so I tried my best at ten miles.  I did hit what felt like were some decent speeds, but the road signs mocked me.
11.10 miles
Time 49:36
Ave Speed 13.4 mph
Max Speed 17.6 mph
Allan left for a business trip Sunday afternoon and because I'm such a cool mom, I took the kids to the community pool for an evening swim.  Actually, I had an ulterior motive to squeeze in at least 12 laps (300 yards).  I don't even know how long it took me because I kept looking over to make sure the kids were o.k. while I swam.  It was a very stressful 300 yards, but I did it.
Speaking on laps, I found this really helpful chart from trinewbies.com to explain the distances and the number of lengths for each distance.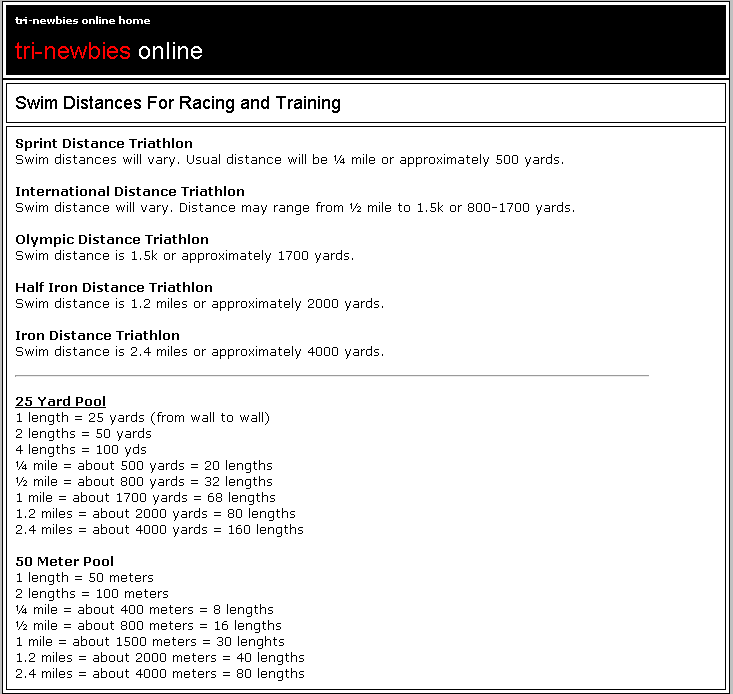 Monday, thanks to my allergies, I still felt terrible, so I opted for another rest day.  I really need to get back to the allergist because it has been a horrible year for allergies for me.  I know he is going to push for another torturous skin prick test and start me on desensitizing shots.  *sigh* I suppose it's time.
Today, I was back on track for Track Tuesday!  Honestly, it took every ounce of energy to get me out of bed to do it.  If I hadn't committed to running with Jenny, I probably would have stayed in bed.
While Allan is out of town, all three of my kids sleep with me which doesn't offer the best night's sleep.  Toss some sneezing and coughing into the mix and I might as well start drinking 12-hour energy drink to stay awake because I'm not sleeping anyway.
So to do sprints, I had to stay close to home, therefore, for our intervals, we ran the half mile loop around my house.  Ironically, it's the same loop I ran all those years ago to teach myself how to run.  In the beginning, I could barely run it.  Now, I'm sprinting it four times.  Isn't the journey of a runner amazing?!
Jenny has been experiencing some painful piriformis syndrome, so she alternated between running and walking to complete her distance.  I ran my warm-up with her.  It was good to have her out there this morning.  I really needed the accountability today, although it looks like my sprints thought it was a rest day.
1 mile warm-up – 14:34
1 mile cool-down – 9:50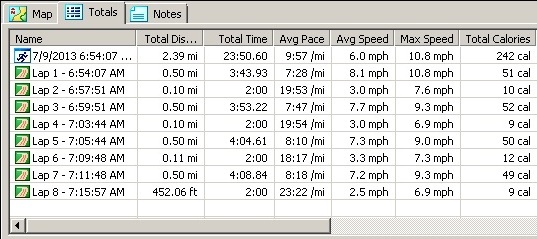 How is your training going?  Are you running any virtual runs this summer to keep you on target with your training?
Pssss…Don't miss my Team In Training Giveaway!
*Submitted to*