I have some truly amazing friends.  I know, everyone says that.  But I hope that you have the same kind of support system in your life, so that when you post a Facebook message out there encouraging your friends to get out there and run…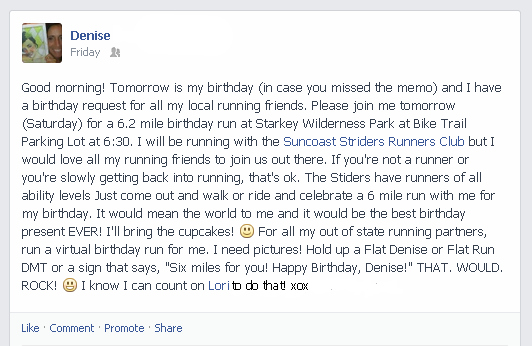 …they respond.  They hit the roads and run with you and for you.
They will run with you in spirit like virtual running partners.
Lori my very first running partner and coach
Coach Brian of Digital Running spells "D & M" in ASL. Nice touch!
Chris – Notice the shirt? Not even planned.
Rachel's trail view
And they sing "Happy Birthday to you" across the countryside with cupcakes and lots of love.
It's wonderful to feel so loved for your birthday.  That truly makes it the Best Damn Birthday.
And one damn great event deserves another, like the Best Damn Race.  It wasn't just a clever marketing ploy.  It truly was the Best Damn Race.  Read my recap/review here.  And then you can decide for yourself on February 1, 2014.
One lucky Run DMT reader will win an free entry to the Best Damn Race. Giveaway Ends 8/1.