It's a Christmas tradition for my mom, my sister, my daughters and I to see The Rockettes whenever their holiday show visit Tampa.  This year, however, there is an added twist to the Radio City Christmas Spectacular Starring the Rockettes.  My sister and I will be attending an exclusive Rockettes Kick Class prior to the show!   Shhhhh…She doesn't know yet.  It's my early Christmas present to her.
Radio City Christmas Spectacular Starring The Rockettes will be high-kicking its way to Tampa on December 12-29 and GoGo squeeZ is sponsoring the tour.  Additional Radio City Christmas Spectacular Tour Dates include:
Atlanta (11/7 – 11/23)
West Palm (11/29 – 12/8)
Tampa (12/12 – 12/29)
New York (11/1 – 12/31)
Nashville (11/16 – 12/24)
GoGo squeeZ, an all natural applesauce in a pouch, just conducted a national playfulness survey and found that nearly 3 out of 4 (74%) parents with kids 4 to 12 have problems including playfulness into their daily life.
What better way to #gogoplayfully than with some jazz hands and a few high kicks?
GoGo squeeZ wants one Tampa Bay Run DMT reader and a guest to experience this exclusive Radio City Spectacular show and one hour long kick-class on December 17 at the Straz Center in Tampa, so you can learn how to kick like The Rockettes.
No prior dance experience is required to participate in the Kick Class and children are welcome! The Rockettes can teach anyone a few of their famous dance steps, regardless of prior dance experience.  All that is required is the willingness to have some fun, so dress comfortably!  Participants will also have a quick Q & A session with our Kick Class Rockettes instructor.
To enter this GoGo squeeZ Kick Class Radio City and Radio City Christmas Giveaway, simply leave a comment below and tell me how you plan to #gogoplayfully this holiday season.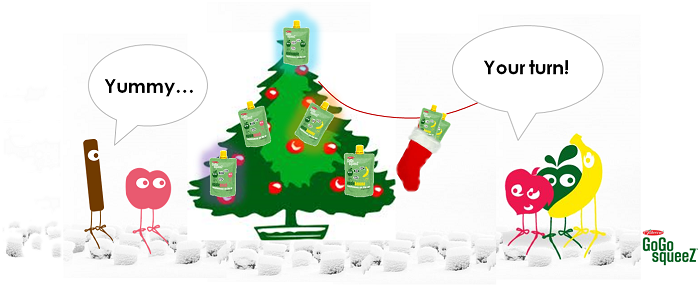 But why wait to win tickets?!
Purchase your Radio City Christmas Spectacular and get 4 tickets for the price of 3.  That's 25% off of up to four tickets with the code GOGOSZ .  (*Offer valid on select tickets to select performances.)  Visit ticketmaster.com or call Ticketmaster at 800-745-3000.
So, let's kick the holidays off right with GoGo squeeZ and The Rockettes!